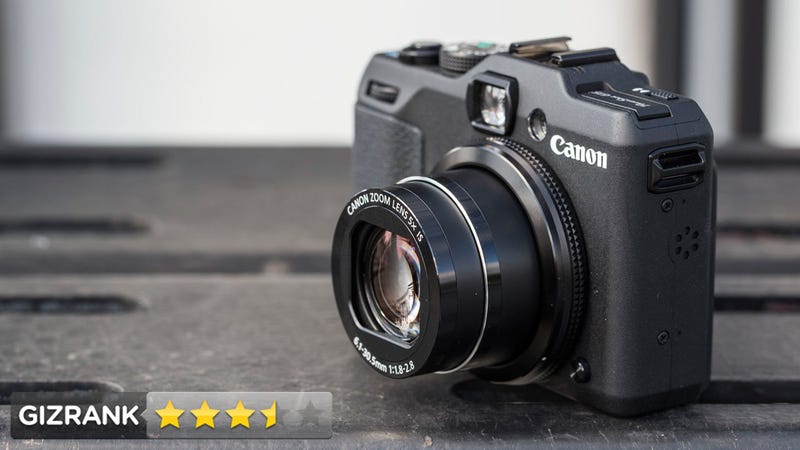 Canon's "G" line of cameras have always appealed to point-and-shooters looking for more of a pro experience. The new G15 has some great details—is it a $499 camera worth considering?
What Is It?
A hefty $499 point-and-shoot camera with plenty of controls and a really fast lens.
Who's It For?
Shooters who want physical manual controls, but a cheaper price tag than mirrorless cameras with interchangeable lenses.
Design
Kudos on this one, Canon. Where looks are concerned, the G15 goes the distance. Everything is well-proportioned and well-placed, with an understated, sleek, yet classic look to it. It is small-ish and more compact than the camera it replaces, the G12. But it's still not too comfortable in a pants pocket.

Using It
It's like any other Canon point-and-shoot. Good, user-friendly controls, and no real surprises when operating the G15. It contains a familiar 12.1 MP CMOS sensor and DIGIC 5 processor, with a 5x optical zoom lens that works out to the full-frame equivalent of 28-140mm. It has a tucked-away flash, and a hot-shoe if you need to mount a better one up top. The real story is the lens, which rocks a freaking crazy awesome f/1.8-2.8 aperture.
The images you will produce are quite nice. For a compact, it packs decent sharpness and solid high ISO performance, with an ISO range topping out at 12800. But you will find better quality in larger-sensor cameras like Canon's higher-priced $799 G1X.
The Best Part
That ultra-fast f/1.8-2.8 aperture makes for low-light goodness and a shallow depth of field. Even the terrific Sony RX100 can't match that at the long end.