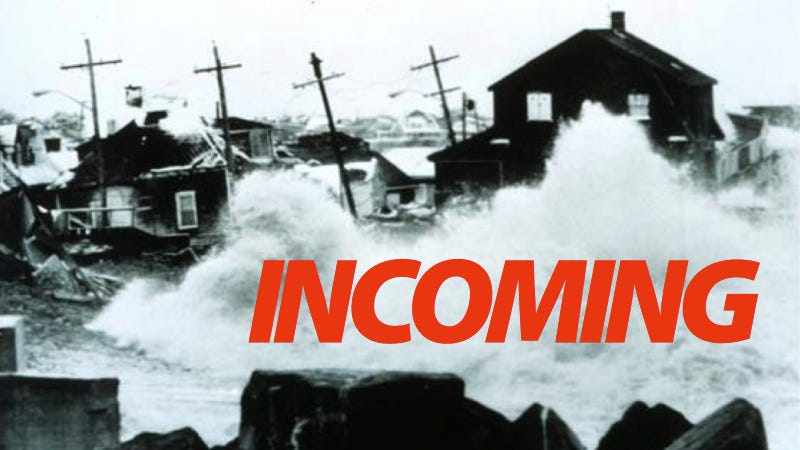 Just a week after Hurricane Sandy plunged New York and New Jersey into a state of emergency from which they have yet to recover, another storm is on its way. A Nor'easter, and a big, nasty one by the looks of it.
The question on everybody's mind is can these storm-ravaged areas take another one, especially when they are still so far from being recovered.
The Storm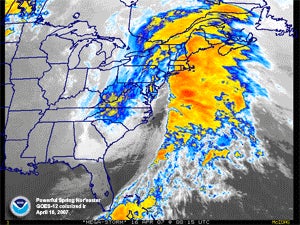 For you non east-coasters, a Nor'easter is a very large low-pressure system that pushes up from the south and brings strong winds down from the northeast (hence Nor'easter). One of the reasons that Sandy was so deadly is that it was really a combination of multiple storms, one of which was a Nor'easter. Typical features of Nor'easters include high winds, freezing temperatures, and precipitation in the form of rain, snow, or sleet. And yes, they have been known to cause major flooding.
The good news is that this storm isn't another Sandy. The bad news is it could still potentially be very bad, particularly while so many are still trying to recover. It's impossible to predict the exact impacts of a storm until it arrives, but we've talked to some experts and can make some educated guesses.
Subways
The latest predictions say that the storm is likely to send a flood of three to four feet on top of the usual tides to New York. Obviously, that's not good, but we're lucky that the tides aren't as high as they were during Sandy last week. (That was partially due to a full moon). The subway is built to handle this level of flooding. As a result, the MTA has not yet announced any potential closures, though they are continuing to monitor the situation closely.
But what about all of the rain? "After the August 8th storm of 2007, we did a review of the impacts to the subways system and railways," MTA spokesman Aaron Donovan told us. "We put into place a system of raised grates that provide ventilation for subway systems." New Yorkers might have noticed these. Some of them are on cinder blocks, some double as bike racks, but by elevating the vents for the tunnels, it's been able to greatly reduce the amount of rainwater that gets into the system.
At the same time, anyone who lives in NYC knows that service is most definitely not back to 100 percent. Many lines and stations are still undergoing repairs, and Mr. Donovan told us that it's reasonable to expect that the coming storm will further delay service restoration.
Trees
We're still not done with autumn, and many trees still have a lot of their leaves. This is a problem; the leaves act as tiny parachutes, catching the wind as it rips through, creating more pressure on the branches and the tree itself. Falling trees took out many power-lines, cars, homes, and people during Sandy.
The silver lining is that Sandy did a lot of pruning already. She stripped a lot of leaves off and already knocked down a lot of the most vulnerable trees. That said, it is likely that Sandy weakened a lot of branches that are now just barely hanging on. As always, it is best to exercise extreme caution near trees during a storm.
Debris
This, unfortunately, is going to be a major problem, especially in the areas that were hardest-hit by Sandy and have mountains of rubble lying around. Winds for this Nor'easter are projected to by around 40mph, with gusts between 50 and 60mph. That is strong enough to send stuff flying, including larger items like pieces of siding. This creates a very dangerous situation for people walking around; unfortunately, people who were displaced by Sand have been doing a lot of walking around lately.