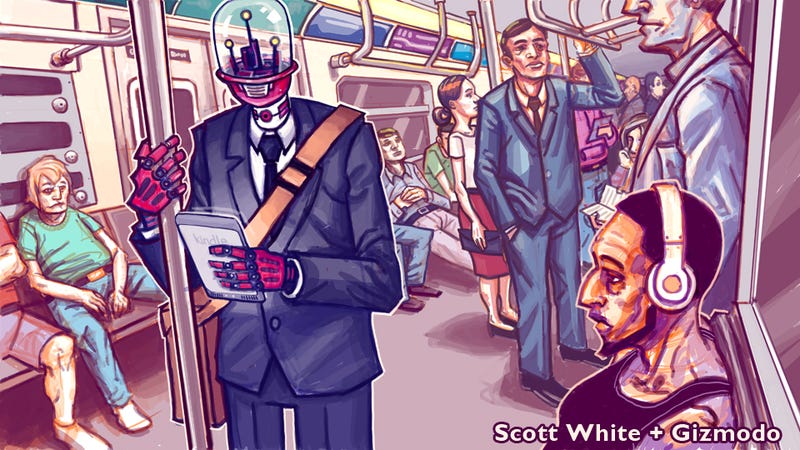 On a visit to Standard Motor Products' fuel-injector assembly line in South Carolina, Atlantic writer Adam Davidson asked why a worker there, Maddie, was welding caps onto the injectors herself. Why not use a machine? That's how a lot of the factory's other tasks were performed. Maddie's supervisor, Tony, had a bracing, direct answer: "Maddie is cheaper than a machine."
Davidson's complex, poignant story, Making It in America, revealed some chilling data about where American manufacturing is headed. It's a matter of simple math. Maddie makes less in two years than a $100,000 machine would cost, so her job is safe—for now.
Elsewhere in America, robots are getting cheaper and more sophisticated, and they're landing better, more advanced jobs. They are driving cars, writing newspaper articles, and filling prescriptions, displacing people with years of schooling and training under their belts. It sounds like a classic sci-fi story, but that disconcerting future isn't in the future. It's here today.
What are the odds your job—your career—will be the next one that can be done better by a machine? Alarmingly high.
***
If you're an average sports fan, you may have heard about Narrative Science. But if you're someone who writes about sports for a living, you've definitely heard of it—you probably already know it's coming after your career.
Part of a joint research project between Northwestern University's schools of engineering and journalism, Narrative Science was officially founded in 2010. It's now led by a small hodgepodge of computer scientists, journalists, and businesspeople whose goal is to use data to create stories via the company's artificial intelligence platform, Quill. Quill takes data fed into it—a football game's stats, for instance—and in seconds pumps out stories. They won't win any Pulitzers, but they're occasionally better than what humans produce.
The sports site Deadspin, last year, challenged Narrative Science to write a better baseball article than one they'd found in a local paper. In the story, the reporter buried the lead—that the pitcher had thrown a perfect game—near the bottom of the story. Narrative Science entered the box scores into Quill and, lo and behold, it came up with an article that announced the perfect game right up top.