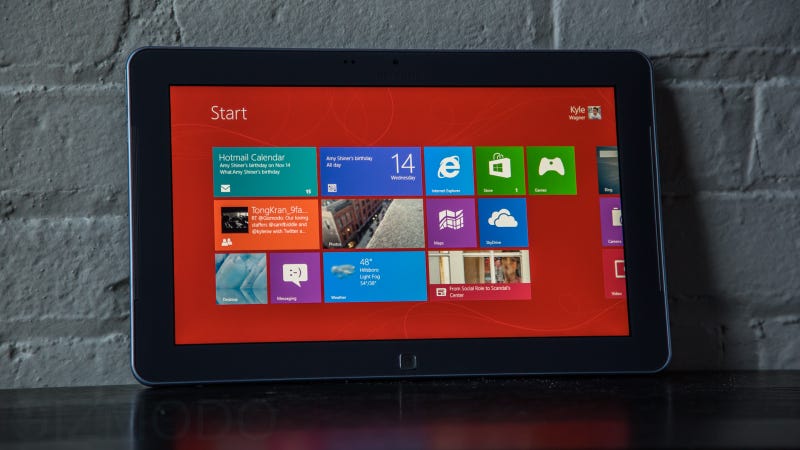 Samsung's Ativ Smart PC tablet is supposed to be a tablet-sized tablet that can run all of your desktop apps. It is all that, sort of. But it's also a mix of things that are impressive, tolerable, and totally unacceptable—sometimes all at once.
Let's get this out of the way first: The Ativ is less about Samsung than it is about Intel. This is the first machine to run on Intel's new Atom chips (formerly Clovertrail). Intel is on a warpath to prove it can make power-efficient, lightweight gadgets that perform as well as their ARM-powered counterparts. The Ativ Smart PC, and the Atom Z2760 inside of it, is the tip of that sword.
Performance-wise, things don't feel optimized, at the very least. There is some noticeable video lag in basic apps like Fruit Ninja, which is strange, but it's rare enough to shrug off. Overall, when you're using and switching apps with the Ativ as a simple Windows RT tablet, it's as fast and responsive as anything we've used. But desktop mode complicates that.
Simple desktop apps, like Pidgin or Chrome, run without incident. On its own, that's awesome. The 1.65-pound Ativ isn't tiny, but it's definitely an average-sized tablet, and desktop apps on a machine this size is a big win.
Other tasks, though, can cause serious problems. The machine is totally unusable while it's downloading something in desktop mode, for instance. All apps, Modern or desktop, slow to a crawl, and the touchscreen barely recognizes input. Dragging something around the screen will stutter for a few pixels at a time, lose track of your finger, and then all of a sudden catch up at once. Then the download finishes, or you quit out of the problem tab in Chrome, and everything is snappy again. You can run into that with any computer, but unless you've been using a netbook for the past few years, you'll notice it far more often on the 500T.
Similar things happen when running heavier programs like Photoshop. But that's missing the larger point—you can run Photoshop on this thing! It doesn't feel as snappy as running it on a Core series, and you won't want to multitask too much while doing it, but running the desktop version relatively well is very impressive. That's about the top end of what you're going to want to run on the Ativ 500T, though. While you can stick Steam on there and run it more or less fine, even relatively lightweight games like Trine 2 are graphical impossibilities for the 500T's guts.
The display is another good example of the Atom-based Ativ being impressive on some levels, and very much not on others. It's a bright, well-calibrated 11.6-inch 1366x768 display, which is the norm on 11-inch ultrabooks. It's brighter than the MacBook Air's screen, and text looks about the same from similar distances. It's totally fine, and a little above average. But compare it to other, similarly-sized tablet displays, like the Nexus 10, or the new iPad, or even other convertibles, like the Dell XPS 12, or the Surface, and it's just not up to par. And at $800, that's tough to swallow.