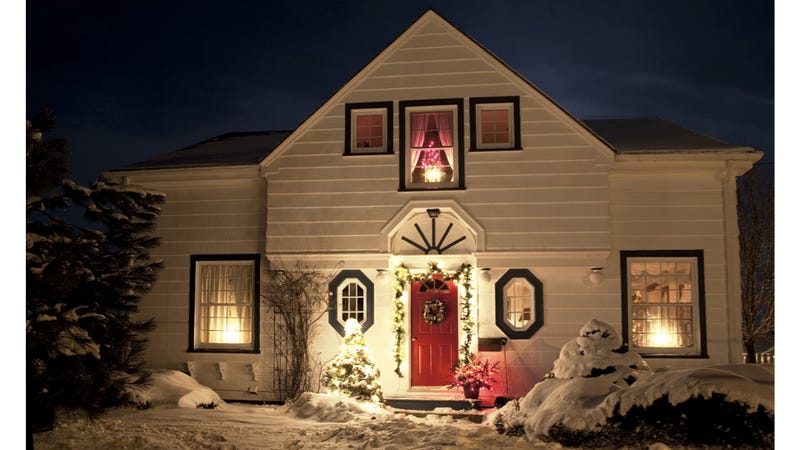 You need your house to feel safe over the holidays, whether you're heading out of town, or staying home to host family between turkey time and New Year's Eve. That's where technology can help. Here's a look at the essential items to consider when you're defending your castle this holiday season.
1. Affordable security camera.
Security camera and receiver kits have been available for years, but now they can cost under $100. The receiver lets you see (and in some cases hear) everything the camera captures, so you know who's outside your house.
2. Advanced smoke alarms.
Wireless smoke alarms can be installed throughout the house using radio frequency for interconnectivity. If one alarm goes off, they all go off. The $50 alarms let you place one in every room without hassling with wiring.
3. Kitchen-specific fire extinguisher.
Cooking is the leading cause of house fires, and according to the U.S. Consumer Product Safety Commission, 75% of range and stove fires start with food catching on fire. The $20 Kitchen Fire Extinguisher is designed for use with home cooking equipment. It has a unique nozzle that sprays sodium bicarbonate (baking soda) in an arc pattern at low pressure (instead of a hard, direct spray), so the oil won't splatter and spread the fire or cause burns.
4. Unpredictable light timer.
Unlike timers that turn lights on and off at specific times, the House Sitter Random Light Timer flips the switches with no set pattern. The timer also works for radios and TVs. It costs $19.
5. Fake television burglar deterrent.
The FakeTV is an electronic device that's smaller than a coffee cup, but it produces the same sort of light as a real 27-inch LCD television. From outside the house after dusk, the $40 decoy TV light discourages burglars by creating the impression that someone is home.
6. Christmas tree fire detector.
A Christmas tree can catch on fire and be engulfed in flames within seconds. The LifeKeeper Christmas Tree Safety System has an angel ornament that's doubles as a heat detector, and sends a signal to a portable, wireless base alarm if the tree temperature gets too high. The $37 angel's wings also blink every 24 hours to remind you to water your tree.
7. Home security apps.
Want to monitor your home while you're gone? Want to view cameras or turn lights on and off? There are apps to do that on iOS and Android. Prices range from free to $100, depending on what you want to see, control and the security system in your house.
8. Solar-powered motion detection lighting.
Almost everyone is familiar with outdoor motion sensor lighting fixtures—they turn on when they sense movement, lighting your way and scaring off prowlers. If you don't want to deal with wiring, this $70 solar-powered version can be placed anywhere. It stores a charge in the day and works through the night.
9. Live address delivery.
If you're ordering presents online but traveling during the holidays, make sure the gifts are delivered to a place where they'll be picked up. Leaving packages sitting on your front step for several days is never a good idea. If you're ordering through Amazon.com, use its locker delivery service that lets you pick up your packages at a secure location. It works!