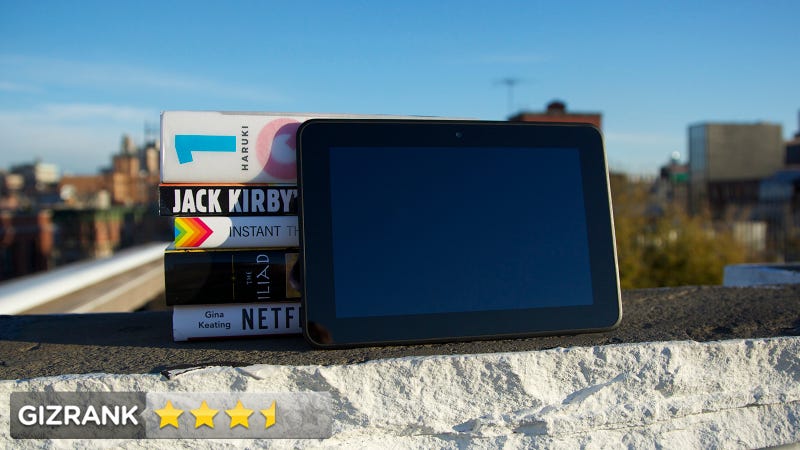 Comfort. That's what the Kindle Fire HD 8.9 has over everything else. It's by far the most comfortable tablet to hold, and to read and watch movies on. But to be the full-fledged iPad and Nexus competitor we're hoping for, it needs to be more than just another pretty face.
Why It Matters
It costs $300. That makes the 8.9-inch Fire HD the cheapest full-size tablet, and therefore at the top of a lot of shopping lists for the holidays. Many, many people will own this by the end of the year whether it's any good or not. They're hoping for good.
Design
This is the perfect size for a full-size tablet. It's just more comfortable to hold than the 10-inch slates it's up against. Holding it one-handed in portrait mode, especially, is more comfortable than it is with the Nexus 10 or iPad, thanks of the smaller size and lighter weight combined with the same spacious bezel. It's got a rubberized back that will be familiar if you've used a 7-inch Kindle Fire HD, twin speakers placed on either side of the tablet while in landscape mode, which is how you'd want them for watching movies.
It doesn't quite have the industrial polish of the iPad or the Nexus 10, but it's still a handsome tablet. Its optional case, though, while identical to the 7-inch Fire HD's—which we liked—just seems too bulky for a larger tablet. You'll prefer to keep it undressed.
Using It
For a tablet as drop-dead identical to the 7-inch Kindle Fire HD as this 8.9-inch version is, using it can feel remarkably different. And it's not just the physical size; it's the change in expectations between using a cheap little tablet and something bigger—and pricier.