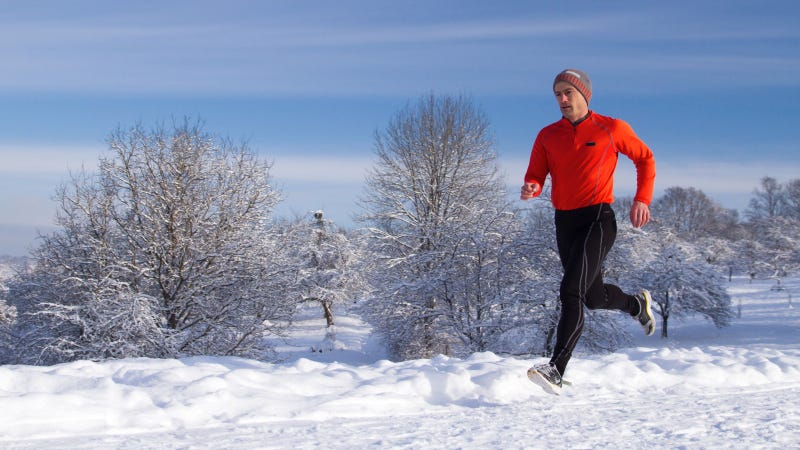 Winter is breathing its nasty breath all over your best intentions. You want to keep up your running routine, but the sidewalks are getting slippery with rain, or worse, ice. With just a few adjustments, we'll teach you how to laugh in Old Man Winter's hoary face.
Welcome to Fitmodo, Gizmodo's gym for your brain and backbone. Don't suffer through life as a sniveling, sickly weakling—brace up, man, get the blood pumping! Check back on Wednesdays for the latest in fitness science, workout gear, exercise techniques, and enough vim and vigor to whip you into shape.
Cadence
This one adjustment you may have not considered will likely make the biggest difference between an unscathed run and an uncomfortable face-plant: Increase your cadence. That's not your speed, it's the number of steps you're taking per minute. This is a huge component of the "minimalist running" movement, but it especially applies on slippery terrain. By taking more, smaller steps you are accomplishing a bunch of different things.
1. When you take big steps, you are over-striding. In other words, your heel lands in front of the rest of your body and take most of the impact. Should your heel land on something slipper, it is going to rocket out in front of you and you'll be on your ass before you can blink. Not ideal. When you take small steps, your mid-foot lands directly underneath your center of gravity, minimizing slippage.
2. Running is jumping. Or leaping, rather, from one foot to another, over and over. Taking longer steps increases your hangtime by giving you a more vertical trajectory. That up/down movement translates to wasted energy, and it increases the impact of every stride. Increased impact on an off-center foot is just begging for it to slide out from under you. A rapid cadence spreads your weight out, creating lighter footfalls as you go.
3. Because a quick cadence encourages mid-foot striking, you have increased traction. Unlike the heel, the mid-foot is flexible and can make micro-adjustment in changing terrain. It also engages your lower-calves like a spring, helping you absorb impact.
Beginning runners generally have a cadence of less than 160 steps per minute. More advanced runnings aim for 180 steps per minute, which sounds like a lot, but once you get the hang of it, it's not so weird. Professional mathoners may have an average cadence upwards of 200 steps per minute. If you want a little help getting your cadence up, we suggest running to these mathematically perfect playlists.