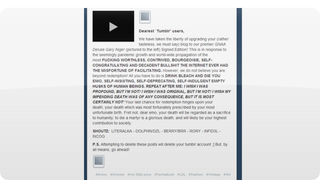 Don't panic. You might have trouble finding GIFs to describe your feelings for a little bit, because there's a exploit spreading on Tumblr that's effectively shutting down your favorite sites. And, if you so much as click on the wrong post, shutting down your own.
The exploit, spearheaded by the anti-blogging hacker group GNAA, seems to have originated when the post above—an ideological GNAA screed—appeared on the Tumblr for the Daily Dot, an online news site. Click on the post, your own Tumblr displays it as well. Over 8,600 unique Tumblr users have reportedly been infected so far, including USA Today, the Verge, and EW.
Bottom line: do not click if you see the above, and don't tweet out links to it, or you'll get/give the worm too if you're logged into Tumblr.
In the past, the GNAA has targeted such prominent sites as CNN, Wikipedia, and the Obama campaign site. The GNAA has been around since the early 2000s, and it exists basically to disrupt websites. Not much is known about the organization's internal structure, but it was once run by convicted iPad hacker Andrew "Weev" Auernherimer. At the end of October, the GNAA tricked people into thinking there was mass looting after Hurricane Sandy. Today's exploit is apparently, a campaign against bronies.