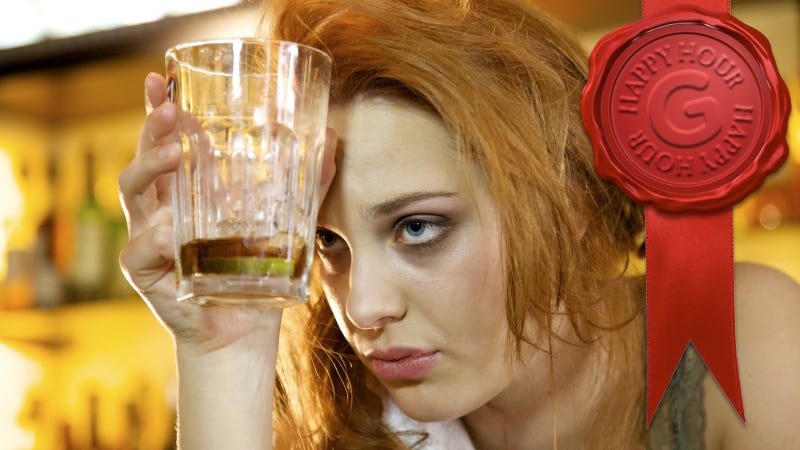 You. You're out drinking with your friends, matching them round for round. They're sippin' fancy whiskey, but you're saving money, sticking with the well specials. So why is it, halfway through the night, you're suddenly hit with a brutal headache, and everybody else is fine?
It's Friday afternoon, you've made it through the long week, and it's time for Happy Hour, Gizmodo's weekly booze column. A cocktail shaker full of innovation, science, and alcohol. Shhhh, my brain!
First off, let's set the record straight. Just because something is inexpensive, that's doesn't necessarily mean it's bad. Tito's vodka, for instance, doesn't cost much, but it can go head-to-head in flavor and purity with uber-expensive topshelf brands. So when we say "cheap" what we really mean is "low-quality." That said, Tito's is more the exception than the rule, and cheap stuff is generally more likely to be low-quality.
The Presence of Congeners
Congeners, also known as fusil oils, are a byproduct of the mash fermentation process. They are, essentially, impurities. There are hundreds of types of congeners, some of which are higher-order alcohols (i.e. non-ethanol) that our bodies can't really process. Essentially, our bodies treat them as a poison, and a headache is a very common symptom of poison processing. That said, different people may be better or worse at metabolizing and flushing these toxins.
Because all alcoholic beverages begin with fermentation, any type of booze is liable to have congeners. It is widely believed that because cheaper alcoholic beverages begin with lower-quality ingredients, more congeners are likely to be produced at the fermentation stage.
Purity Through Distilling
Say you have a big vat of fermented liquid and you want to turn it into a high-proof spirit. That means distilling it. Each time it goes through the distilling process, more and more congeners and impurities (which may cause headaches) are removed. Tito's, as an example again, is distilled six times. If you are buying bottom-shelf vodka, you'll be lucky if it was distilled twice. This process lends some credence to the idea that the cheap stuff is harder on your brain.
Filtration is another way that vodka brands attempt to clear out impurities. We made an activated-carbon filter and ran some terrible vodka through it. It actually made the booze a lot better. Bottom-self brands typically do the minimum for filtration because they're made en masse, and, after all, nobody is buying Georgi for the subtle and nuanced flavor.