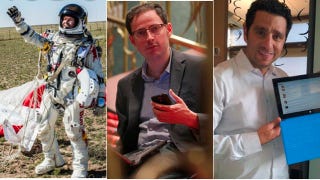 Behind every great innovation, breakthrough technology, or life-changing machine, there are people who worked to make it a reality. These people deserve a little damn credit.
Not just anybody made our list of tech heroes for 2012. If a company moves technology forward with innovation, that just means that its executives and engineers are doing their jobs. This isn't about keeping the ship afloat—it's about going far beyond expectations. Here's a look at the people who really deserve the title 2012 tech hero. Don't agree with us? Feel free to chime in with your own nominations.
Felix Baumgartner jumped to Earth from space
Does this even need explanation? On October 14th, 2012, this motherf*cker jumped out of a balloon from space, broke the sound barrier in a custom space suit, and landed on Earth without dying. WHAT?!?! You know how you had that dream one time of playing professional baseball, inventing something, or traveling somewhere far-flung? Yeah, you still haven't done it, huh? Well, Baumgartner said, "I want to skydive from space." He figured out how to do it, assembled a team that could build the technology he needed, and then accomplished his goal.