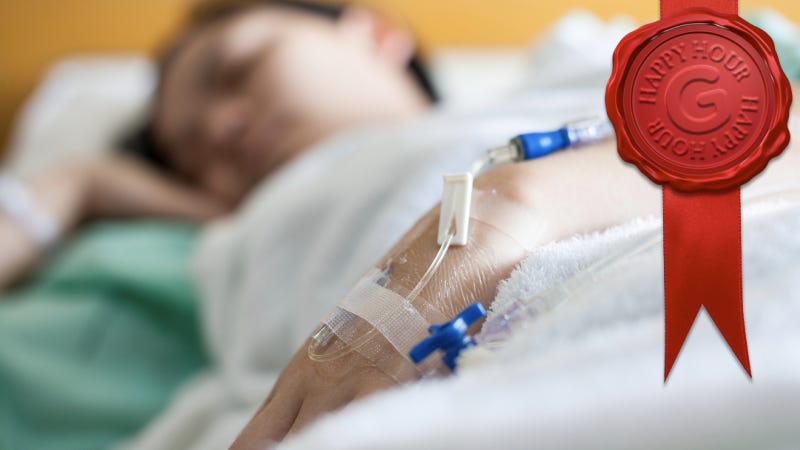 As regular Happy Hour readers know, there's nothing we like more than finding new, innovative, and fun approaches to drinking. But there's a darker side that must be acknowledged. Specifically, you can poison yourself and die.
The spectre of "alcohol poisoning" looms over every bar, college campus, and raging party, but what is it exactly? And what happens if you get it? With Drunkfest (a.k.a. New Year's) on the horizon, we sat down with a top-notch emergency room doctor to find out exactly what goes down.
It's Friday afternoon, you've made it through the long week, and it's time for Happy Hour, Gizmodo's weekly booze column. A cocktail shaker full of innovation, science, and alcohol. I don't care how pretty you are, I'm not taking another shot with you.
What Is Alcohol Poisoning?
First of all, "'Alcohol poisoning' is a layman's term," says Doctor L, our ER doc-friend who asked to remain anonymous due to her university affiliation. "Alcohol intoxication is a spectrum and there isn't a specific threshold that one crosses and suddenly becomes 'poisoned.'" Makes sense. After all, alcohol is a toxin and our body treats it as such, regardless of quantity. Even a single glass of champagne (or wine, or beer, or whatever) will result in some 'poisoning,' it just won't be very severe for most people. On the other hand, some people have a very tiny threshold for alcohol, and even half a glass can send them running to the bathroom. Food intake, sleep, and a person's physiology are just a few of the variables (you can read about that here).