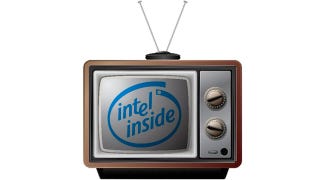 Bad news for anyone who was excited for Intel to finally reveal its long-rumored set top box and TV service plans at CES next week. According to Janko Roettgers over at Gigaom, knowledgeable sources claim that Intel won't be officially announcing its challenger to the Apple and Google TV at the show, but more tantalizing details have emerged.
The team behind the Intel Media project, as it's been dubbed, have been operating as a sort of secret Skunk Works inside the company. And as of six months ago the project had already burned through $100 million—so Intel is very serious about it succeeding. Of course the company realizes it's entering a crowded market, so it's already made a couple of strategic additions to its team to effectively market the hardware and service.
At the center of Intel's efforts is a set-top box manufactured by Intel and possibly Intel-branded as well. The device will be sold on Intel's website as well as through retail partners. Intel Media has hired Sean Ludick, who helped Jawbone to get its speakers and headsets into the stores of retail giants like Best Buy, Costco and Walmart. Ludick is now is in charge of doing the same for Intel's TV box.

Of course, Intel's box will compete with a plethora of other devices at these stores, none of which are selling particularly well. That's where Courtnee Westendorf comes in. Westendorf worked more than a decade at Apple, where she managed global marketing for the iPhone and iPod. Now, she is head of marketing for Intel Media.
And as we reported yesterday, Intel isn't planning to compete with Apple TV and Google's streaming services by simply providing slightly better offerings. It actually wants to fix what's wrong with those services and hardware with a different approach for its set top box.