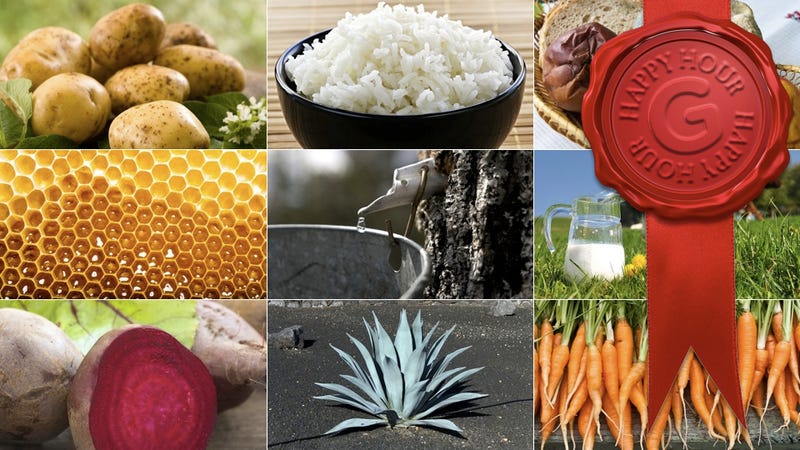 Sometimes you just don't have the right resources to make a decent drink. But if you get enough sober, thirsty minds focused on the problem, humans can find some pretty creative ways to come up with alcohol.
Did you really think something like a lack of grapes or a shortage of barley could keep mankind from getting its swerve on? No way. We're way too clever for that. Here's the proof.
It's Friday afternoon, you've made it through the long week, and it's time for Happy Hour, Gizmodo's weekly booze column. A cocktail shaker full of innovation, science, and alcohol. So how did you brew this "beer"?
Carrots
You wouldn't think that this particular vegetable would be good for making booze, but carrots are at least a little bit sweet. Sweetness = sugar, and sugar is what yeast can devour to make into alcohol. According to this recipe, carrots are peeled, chopped, and then boiled until they're mush. Sugar is added (which is almost cheating), as is yeast. The result: Carrot wine. It's less alcoholic than grape wine, but it still comes in sweet or dry varieties. Thirsty, wabbit?
Maple Sap
The same tree goo that makes syrup can make spirits. First, tap some holes into the right maple tree at the right time in spring. As the temperatures fluctuate between night and day, a sugary sap oozes out from the trees. Where there's sugar, there's some human trying to make booze out of it. The Vermont Spirits distillery's Vermont Gold Vodka is a fine example. It's made from 100 percent maple sap, which is then fermented and triple-distilled. The result was lightly sweet, quite smooth, and made me think of pancakes. I could have polished off a case of it.
Sour Apples
If you read Michael Pollan's book, The Botany of Desire, then this one will be familiar to you. All our illusions of Johnny Appleseed planting sweet, delicious apples are lies. Lies, I tell you! Most of the apples Johnny planeted were sour enough to pucker your kisser, but they had one very appealing attribute: They made excellent booze. The apples' juice fermented into a tasty cider, and industrious frontiersmen distilled it down into a spirit known as applejack. A few companies still make it. I'm personally partial to Cornelius Applejack—each bottle is made from over 60 pounds of Hudson Valley apples, then aged in bourbon barrels at Harvest Spirits' New York distillery.
Moldy Fruit & Ketchup
Get ready to supress your gag reflex. As we learned in our visit to San Quentin, prisoners just have to work with what's available. Inmates stash the fruit they get at meals and toss it into a plastic garbage bag. By some accounts, they let it start to rot. Then they sweeten it with whatever they can get their hands on—sugar, drink mixes, even ketchup. Yeah, ketchup. Because the prisoners have no direct access to yeast, they just toss in a few slices of bread and hope for the best. After many days of fermenting, you end up with pruno, a.k.a. prison wine. Some guys take the pruno and distill it into lightning, which can be as high as 160-proof. Both beverages are extremely dangerous.