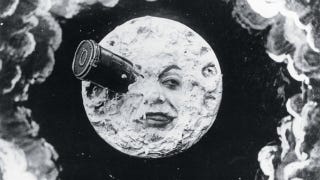 Isaac Newton laid out the physical ballistic requirements to hit the moon with a gun in his famous Cannonball thought experiment. Since Newton, and for years before him, humans have relentlessly sought to shoot the man in the moon in his big, smirking face. Now, we've nearly figured it out.
There are only two ways to get off this planet—powered and unpowered. Rockets, which use propellants to continually accelerate as they travel, fall into the first category. Space travel as we know it has been almost exclusively the powered kind. This is because it is much less stressful on both the craft and its payload while they reach escape velocity (the minimum speed and direction an object must travel so it doesn't fall back down or enter orbit around the planet).
Bullets, which only accelerate until they leave the muzzle of the gun, have a harder time escaping. Therefore, we're going to need a bigger gun. Much, much bigger. Bigger than any gun ever built before. That Nazi railroad gun from WWII? A pea shooter compared to the cannon necessary to put packages into space. We're going to need a Space Gun.