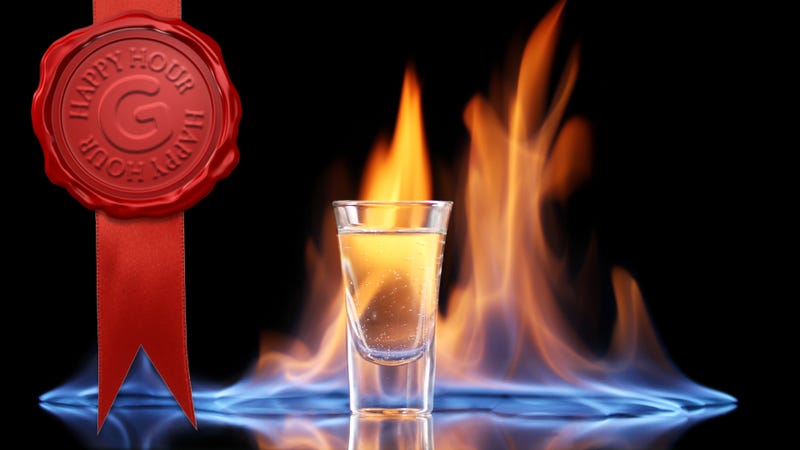 "Fire is cool," quoth Beavis, and yea verily, Butthead did agree. And, honestly, so do we. There's a little bit of a pyro in most of us, and a flaming drink is certainly a spectacle. That said, there's a right way, and a whole lot of wrong ways to do it. Here's the red hot skinny.
It's Friday afternoon, you've made it through the long week, and it's time for Happy Hour, Gizmodo's weekly booze column. A cocktail shaker full of innovation, science, and alcohol. I can't feel my face, which is good, because it's on fire.
Why Light Your Drink?
Let's not bullshit ourselves: 99-percent of the reason people light their drinks on fire is because it looks cool. It's exciting, it's dangerous. It's almost entirely about the spectacle. That said, it does make subtle alterations to the drink's flavor.
The biggest change is that it burns off some of the alcohol. Our tastebuds have trouble making out different, subtle flavors when they're being pummeled with booze. Lowering the proof of the drink will allow you to taste the other elements more. It will, however, get you less drunk the longer you let it flame.
Some will tell you that you do it to warm your drink, which it will a bit. Not a lot, but a little. Anyone who remembers 8th grade science knows that heat rises. Since the flaming element is at the very top of your drink, almost all of that heat energy it's going up and into the air. It can, however, heat the glass it's in, which will conduct some heat downward. But the bottom line is that you'd have to let it burn for quite a while to really heat your drink, and you'd lose a ton of the alcohol. There are better ways to warm your beverage.
Others will tell you that it "caramelizes" an element of the drink. There is some debate about this, but we aren't buying it. Again, heat rises and the sugary elements of the drink (amaretto, for example) are down below the flaming high-proof top. Different sugars caramelize at different temperatures, with the lowest (fructose) starting at 240 degrees Fahrenheit. There is simply no way that's happening underneath the surface of your drink. Sorry. It is, as we've mentioned, certainly is possible to add flavor to your drink with fire, but there are different principles at work.