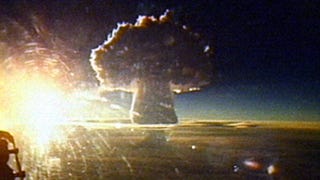 Big Ivan, better known as Tsar Bomba, was 57 Megatons of Soviet might. That's 1,400 times Hiroshima and Nagasaki combined and ten times the entire combined fire power expended in WWII. In one bomb. One explosion. And, incredibly, that's only half of what it could have done.
In July 1961, Nikita Khrushchev, First Secretary of the Communist Party of the Soviet Union (and leader of the USSR) decided that he had had enough of the unspoken nuclear testing moratorium that his country, the US, and the UK had been abiding by since 1958. The 22nd Congress of the Communist Party would convene that October, providing the perfect venue to show off the USSR's military muscle. With the world's eyes on Moscow, what better way to show the West who was boss than with a "testing spectacular" setting off the largest man-made explosion of all time?
Problem was, they didn't have a bomb nearly big enough for Khrushchev. Up to that point, the largest hydrogen bomb the Soviets had detonated was the puny 3 MT RDS-37 (albeit the first true hydrogen bomb they built) but Khrushchev demanded something much, much bigger—enough to make America's 15 MT Castle Bravo test in 1954 wilt. And he wanted it built in time for the Congress. And since telling Nikita Khrushchev "no" simply didn't happen, a four man development team—Victor Adamskii, Yuri Babaev, Yuri Smirnov, and Yuri Trutnev—designed and simultaneously built the 24-foot long, three-stage thermonuclear device in just 15 weeks.