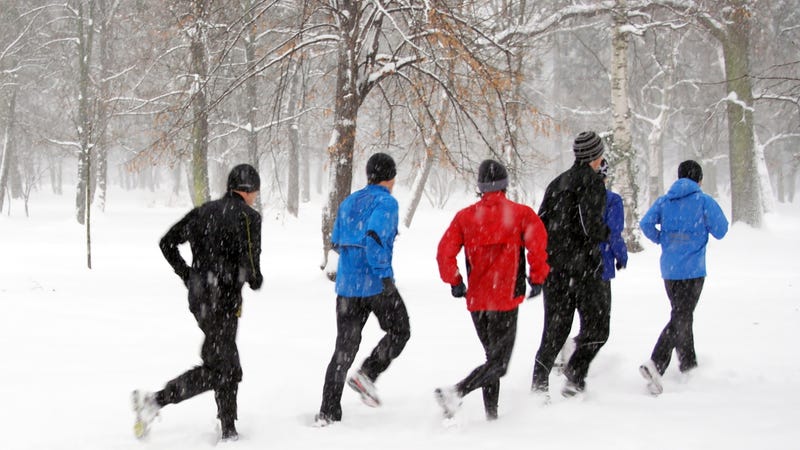 "Damn, it's freezing. I know I said I'd go for a run, but in this cold it's probably unhealthy, right?"
Sound familiar? It's this line of reasoning that keeps me on the couch, watching Downton Abbey, crying into my nachos. But is running in cold weather actually unhealthy, or is it just a flimsy excuse?
To find out, we talked to the legendary Dr. Jack Daniels, one of the world's best running coaches, and got the skinny on cold.
Welcome to Fitmodo, Gizmodo's gym for your brain and backbone. Don't suffer through life as a sniveling, sickly weakling—brace up, man, get the blood pumping! Check back on Wednesdays for the latest in fitness science, workout gear, exercise techniques, and enough vim and vigor to whip you into shape.
You've already heard of Dr. Daniels if you are one of the gazillion people that read Christopher MacDougal's Born to Run, where he's prominently featured. He's the guy that analyzed the gait of elite runners and came back with the 180 strides per minute figure that you hear so often today. He wrote Daniels' Running Formula, he is widely regarded as one of the best coaches in the world, and he lives in a place with cold winters. The man knows what he's talking about.
Too Cold For Running?
A lot of people think that at a certain temperature your lungs will freeze and you'll die. Except in very extreme conditions (a cold day for the Yukon) that's not something you need to worry about. "The pulmonary system is very very good at warming air," said Daniels. "That doesn't mean it's going feel good to go running at 40 below, but it probably won't freeze your lungs." He cited a study, done many years ago, in which doctors measured the temperature in dogs' lungs while they were inhaling air that was negative 40 degrees F. The air they exhaled matched the dogs' body temperatures.
At the same time, Daniels points out that when it's really cold there is virtually no moisture in the air. So even though you're not freezing your lungs, you can certainly dry them out. Your throat and lungs can even crack and bleed if you dry them out enough. Aside from that, generally the greatest physical danger you face when it's freezing out is slipping and falling in some ice. We previously gave you some tips to avoid slipping while running, and Jack agreed with those. He added that you'll want to adapt more of a "shuffling" gait to maximize the surface area of your foot that comes into contact with the ground, giving you more traction, and he notes that you should be especially careful going downhill.