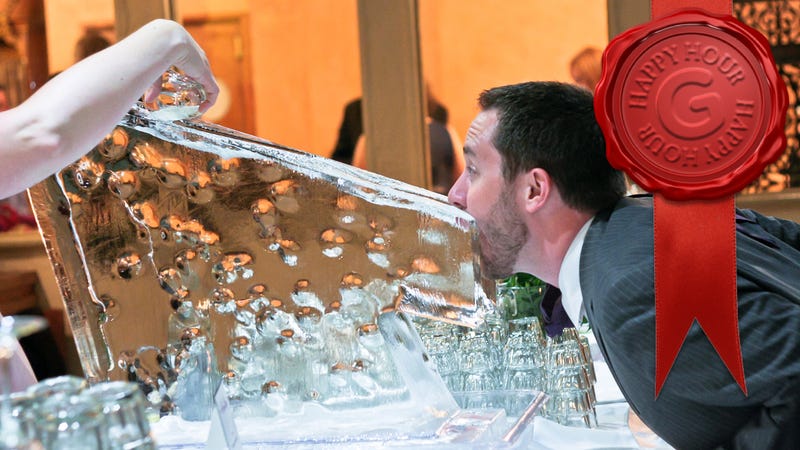 Sometimes it's fun to challenge ourselves. I'm in Aspen covering the Winter X Games, so I've got ice on the brain. I've never made an ice luge before, but I started thinking, "How could I make one in my hotel room with basically no tools?"
Challenge accepted, brain.
It's Friday afternoon, you've made it through the long week, and it's time for Happy Hour, Gizmodo's weekly booze column. A cocktail shaker full of innovation, science, and alcohol. Your hooch wants to shred some slopes, too.
What Is an Ice Luge?
No, it's not an Olympic event (yet). It's for drinking. It's a solid block of ice with some channels in it that zigzag back and forth. It's stood up on a table at an angle of 45 to 90 degrees. A person puts his or her mouth at the bottom of the luge. A shot is poured in at the top. The booze snakes its way down through the block and by the time it gets to the imbiber's gaping maw, it's icy cold.
It's a fun way to take a drink (as long as you're not bothered that's it's been co-opted by frats), and you can buy them from a lot of high-end ice distributors. But say you're in a strange town with a couple of friends, it's 10pm, and for whatever reason, you simply must drink via ice luge in your hotel room. Using only supplies I could find at a grocery store or gas station, I tried three methods. But first...
The Ice
So, in a perfect world, you would make the block of ice yourself. You'd get a plastic cooler and you'd let it freeze nice and slowly. As we learned not so long ago, freezing ice slowly is how you get it perfectly clear. Clear ice is the hardest and most resilient, which makes it perfect for this application. That said, you probably don't have 24-48 hours to spare, and even if you did most hotel rooms don't have a freezer that's big enough. That means you need to run to a grocery store and grab a ten (or twenty) pound block of ice. That'll do just fine. While you're there, get something that you can stand the ice up in so it doesn't slip or melt all over everything. The $0.99 aluminum roasting pan I got worked great.