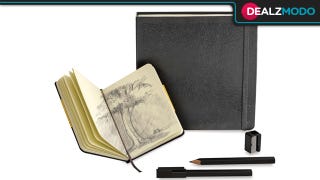 Moleskine notebooks are marketed as if they're the same notebooks that Picasso and Hemingway used. That's a bit of a stretch, but that doesn't mean that Moleskine notebooks aren't fantastic and totally worth the premium price. The paper is thicker — almost creamy — the covers are feel nice, and the weight and color of Moleskine's page lining is just right. They're great notebooks. They also never go on sale.
Fab is running a Moleskine promotion with 42 different Moleskine notebooks on sale today. If you can get past the annoying Facebook wall, there's a couple of good deals to be had. Be careful: some of them aren't really on sale (here's looking at you, cahiers) and you've got to pay for shipping for orders under $75. But choose judiciously, and you can save some real money. In addition, Amazon is price-matching Fab, so there are some good deals over there too. Some Dealzmodo picks:
• Moleskine's Gift Box Gourmet Set — write a personal cookbook — is $47 through Fab, which is $23 less than Amazon. [Fab]
• This dope Star Wars back pocket planner is $15 at Fab and $20 at Amazon. [Fab]
• Moleskine's Gift Box Drawing Set is is cheaper through Amazon than Fab. [Amazon]
Take a look at all your options — including some sweet art editions — over at [Fab.]
Dealzmodo's working for the weekend: Follow @dealzmodo

Found a good old-fashioned bargain? Hit us up.

---
Top Deals
Best Buy is running a crazy sale on the MacBook Air. They're taking $200 off all four base models. The biggest downsides are that you'll have to pay tax and you can't upgrade to 8GB of RAM, but if you can live with that and you're looking for a new MacBook, this is an awesome sale to jump on. [Best Buy]