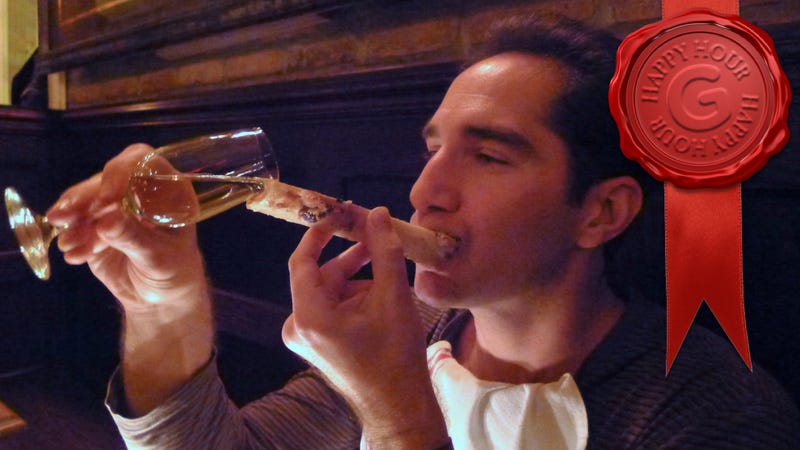 There's a growing trend among North American boozers: sucking down shots through beef marrow bones. Yes, the Bone Luge sounds macabre, savage, disgusting, and fratty, but don't let the name fool you. It's a high-end (read: expensive) affair, but all the pomp isn't just for show. It's actually, you know, good.
Here's everything you need to know about it.
It's Friday afternoon, you've made it through the long week, and it's time for Happy Hour, Gizmodo's weekly booze column. A cocktail shaker full of innovation, science, and alcohol. Vegetarians: you're gonna wanna skip this week.
What the Hell Is It?
A typical Bone Luge starts with a fancyish appetizer at a fancyish restaurant. You want to order the roasted beef marrow bone. It'll arrive, generally sawed in half, lengthwise, with garlic toast, and a couple other accouterments. That right there will generally run you $15-$20. Scrape that fatty marrow out onto your toast, and enjoy as your arteries cry out for mercy.
When you're done eating, you're left with a hollowed-out bone. Here's where the luge comes in. You're going to order a glass of booze (more on which kind in a moment). You put one end of the bone up to your mouth, tilt the bone up, and pour your drink down the other side. Do it right, and it's perfectly funneled into your mouth.
Why Would I Want to Do That?
It sounds like a disgusting gimmick. No better than drinking beer out of a helmet, right? Wrong. In fact, you're adding a distinct and pleasing dimension to your drink: umami. Umami is one of the five basic tastes, along with sweet, salty, sour, and bitter. It is the savory flavor (different from salty), that coats your tongue and lingers. It is our tastebuds' response to the amino acid L-glutamate. Human breast milk is extremely high in glutamate (more than ten times the content of cow's milk), so most of us first encounter the umami flavor while nursing, which may explain why many find it to be calming, soothing, and satisfying. Umami is also known to be a flavor enhancer. Bone marrow is teeming with the stuff.
That's not all. When you bone luge, the alcohol carries some of the excess fat present in the marrow residue with it. Even in small amounts, this adds to the richness of the drink. Because the fat is still liquid on the warm bone, it mixes instantly with the beverage as you're drinking it. The effect is very similar to a fat wash, where something like bacon fat is infused into a spirit, frozen, and then strained out. Except with the luge it's an instantaneous effect. Pouring it down the warm bone also serves to heat the alcohol, slightly, which further releases the aroma.