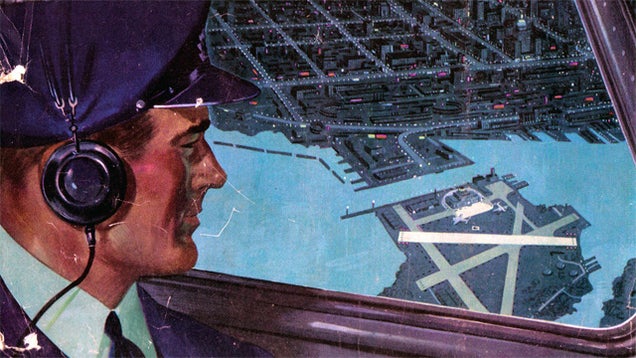 Flying can be a white-knuckle affair for even the heartiest of travelers. But it turns out what you should really fear are airports; almost 60 percent of all aircraft incidents happen there during taxiing, take-off, approach or landing. Here are runway horrorshows from around the globe that may make you rethink your next trip.
---
Barra Airport, in the Hebrides off the West Coast of Scotland. Yes, it is a beach for take-off and landing. At least it's only for daytime flights.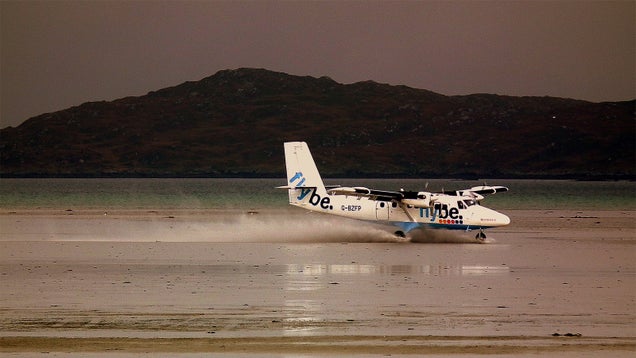 S
Photo: calflier001
---
Water, water, Chubu Centrair International Airport, water, water. (Tokoname, Japan.)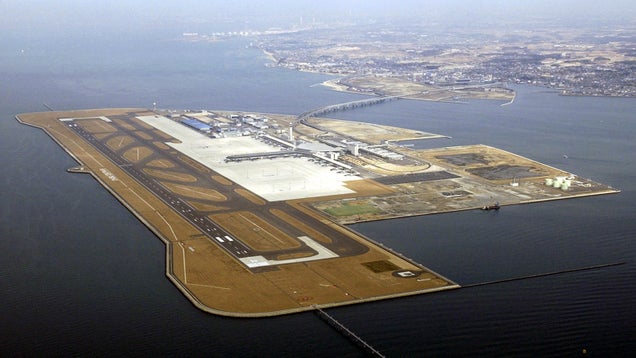 S
Photo: Kyodo News/AP
---
Approaching the Congonhas Airport in the middle of Sao Paulo, Brazil is highly challenging for pilots.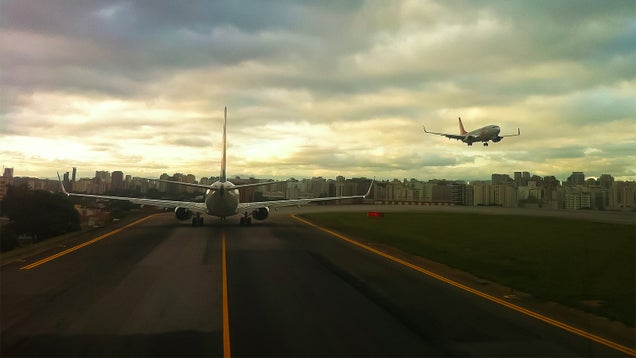 S
Photo: Joao Carlos Medau
---
Another risky beach airport: the Copalis State Airport's (Grays Harbor County, Washington) runway is located between the Copalis River delta and a barrier of rocks.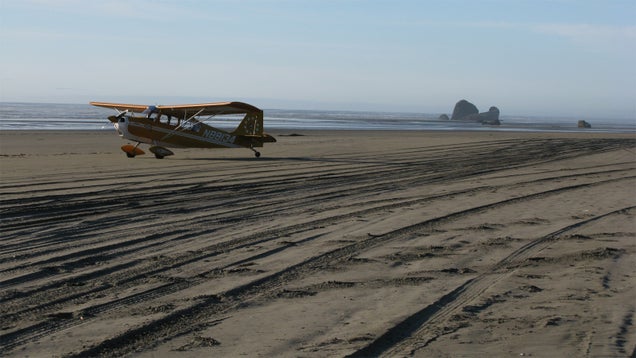 S
Photo: Alex Derr
---
The mountain runway at Courchevel Airport (France) is just 545m long. As if that's not scary enough, it's also got a gradient of 18.5% and a vertical drop at the end.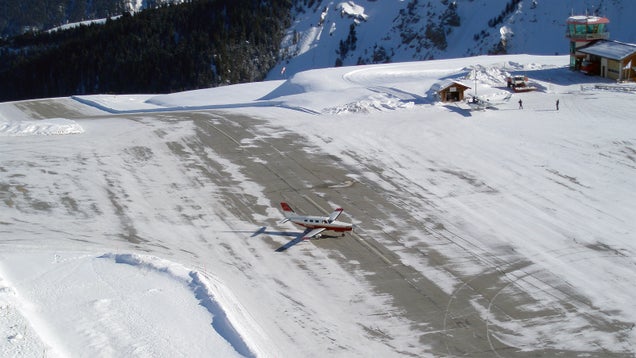 S
Photo: Peter Robinett
---
Gibraltar Airport is located between a bustling city and a crashtastic mountain. Moreover, its 1800m long (short) runway intersects the Winston Churchill Avenue, Gibraltar's busiest road, which has to be closed every time a plane lands or departs.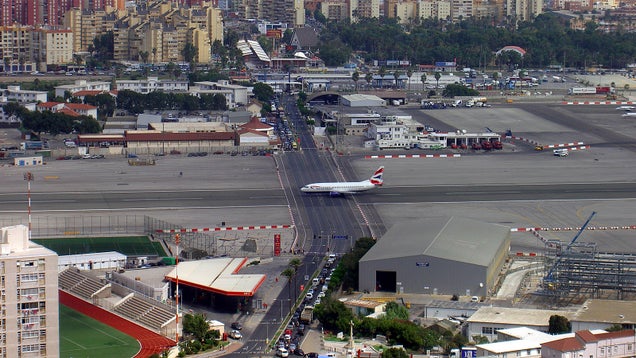 S
Photo: kimhollingshead
---
This is the Gustaf III Airport aka Saint Barthélemy Airport on the Caribbean island of Saint Barthélemy. The short airstrip starts with a slope and ends on the beach.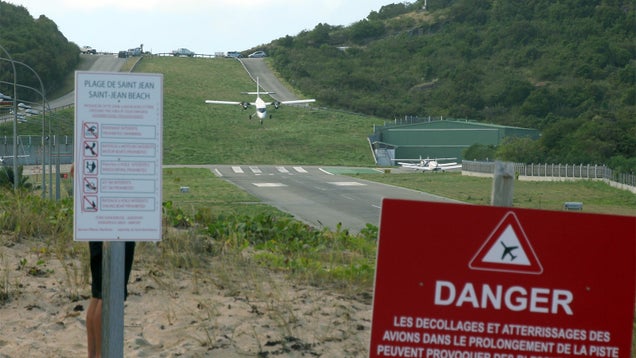 S
Photo: John M
---
Kai Tak International Airport, famous and hated for its heart-stopping approach low over Hong Kong, ended its 73-year reign of terror in 1998.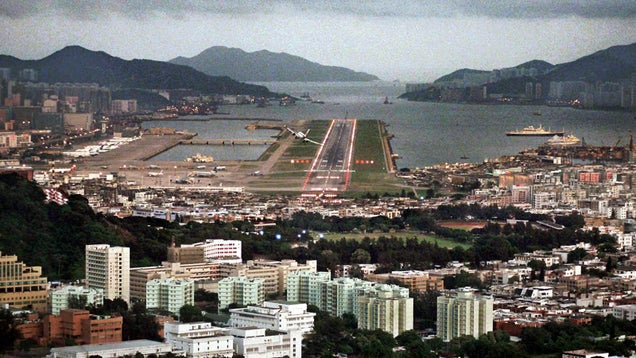 S
Photo: Vincent Yu/AP
---
Kansai International Airport, Osaka, Japan. Approaching this feels like your pilot is about to land on water.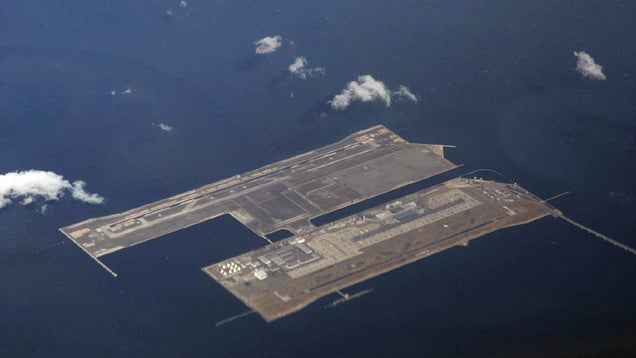 S
Photo: mrhayata
---
Between mountains and the Atlantic Ocean, on the island cliffs, waits the frightening Madeira Airport (Portugal).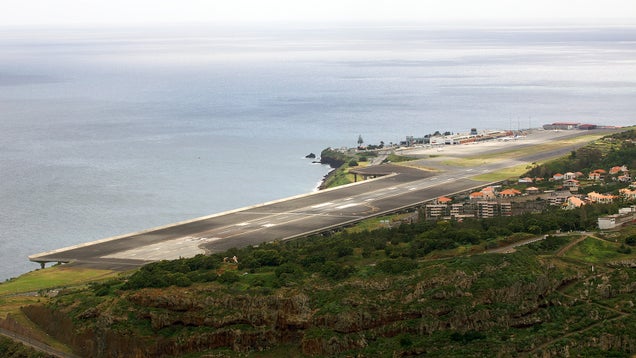 S
Photo: Thilo Hilberer
---
Look at the horrifying Matekane Air Strip in Lesotho (Africa). 400m, and then nothing.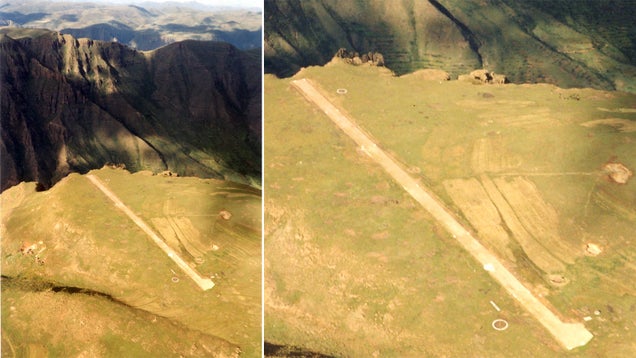 S
Photo: Tom Claytor
---
Narsarsuaq Airport, Greenland. Severe turbulences and winds from the surrounding fjords make this airport a hard task for pilots. Only daytime take-offs and landings allowed, thankfully.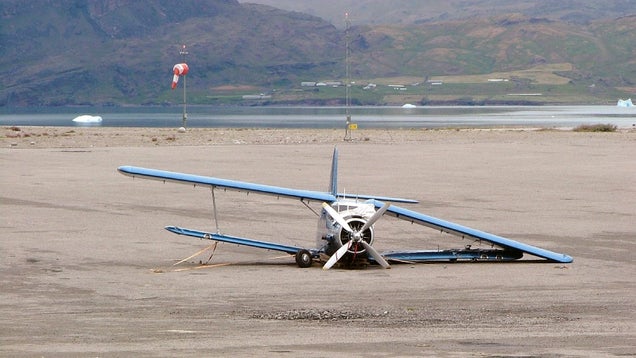 S
Photo: Jim Stewart
---
Paro International Airport, the home of the Royal Bhutan Airlines, is located at an altitude of 2236m and surrounded by over 5000m-high-peaks of the Himalayas. Night or foggy landings are strictly prohibited.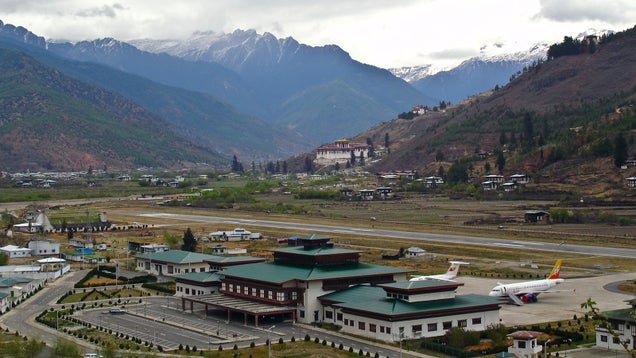 S
Photo: Gelay Jamtsho
---
Pegasus White Ice Runway, Antarctica, the southernmost of three airfields serving McMurdo Station. Believe it or not, aircraft take off and land here all year long.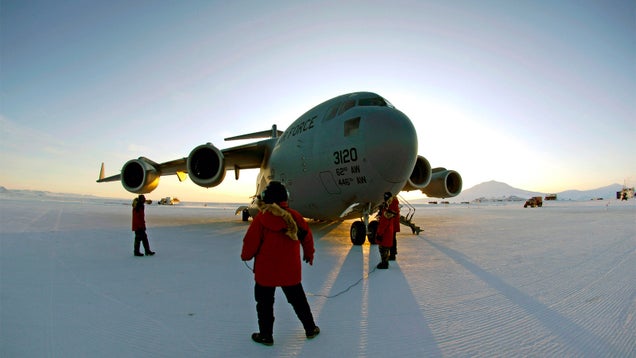 S
Photo: Tech. Sgt. Shane A. Cuomo/U.S. Air Force
---
Because of the short (2300m) runway at Princess Juliana International Airport (St. Maarten), large planes fly right over the tourists' head on Maho Beach. It's a spectacular sight—from the ground.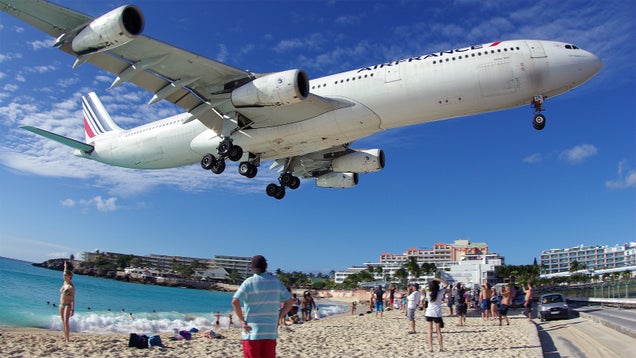 S
Photo: Takashi
---
A densely populated neighborhood, a cramped runway, active volcanoes, and frequent fog make Quito's high-altitude airport a threat for only a little longer; Ecuador's main airport is going to be moved to an agricultural setting 12 miles (20km) northeast of the city.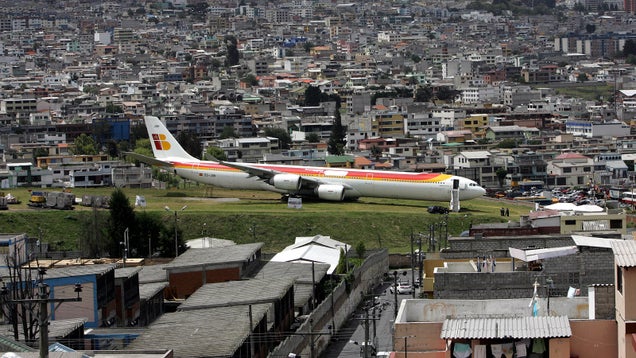 S
Photo: Dolores Ochoa/AP
---
Svalbard Airport in Longyearbyen on the Norwegian archipelago Svalbard in the Barents Sea was built upon a layer of permafrost in 1975. Continuous repaving makes it a hard landing place, literally and figuratively.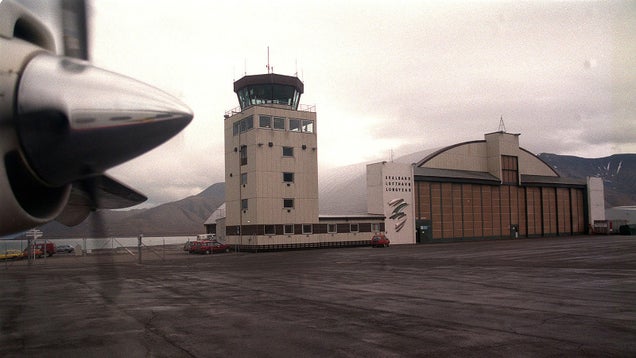 S
Photo: rune Petter Ness/AP
---
The Tenzing-Hillary Airport (Lukla, Nepal) is located 2860m above sea level, and its runway is only a few hundred meters long.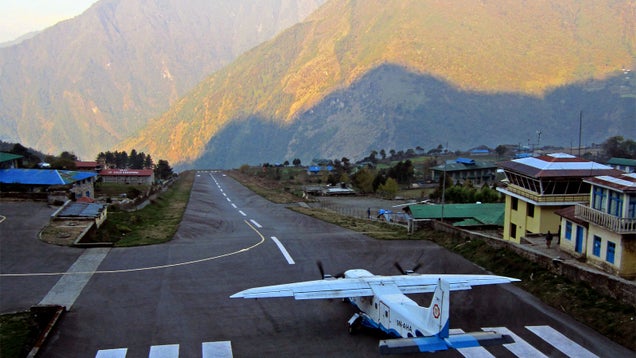 S
Photo: Alex Smith
---
Toncontín International Airport has an extremely short runway—and a mountainous surrounding—in Honduras.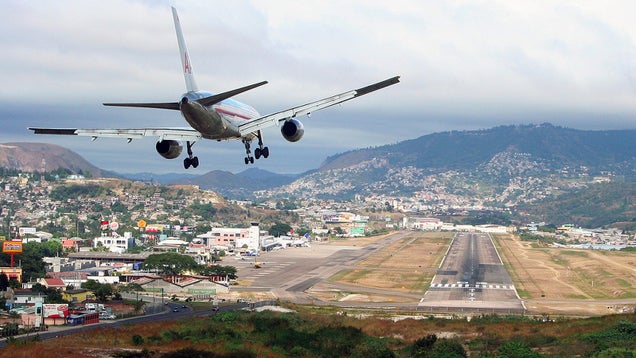 S
Photo: Enrique Galeano Morales
---
Toronto Islands Airport (Ontairo, Canada) is another pinpoint landing site. And there's a nude beach close to the runway, which I'm sure isn't the least bit distracting.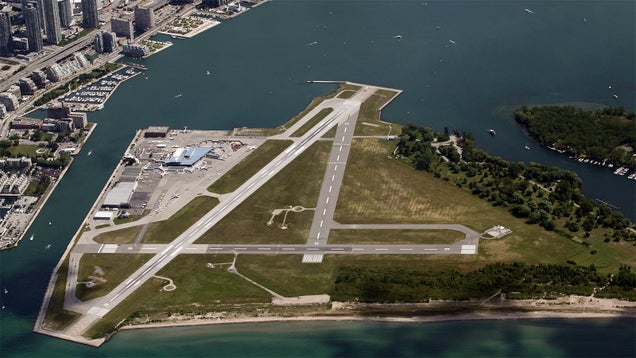 S
Photo: John Steadman
---
Juancho E. Yrausquin Airport, Saba. This Caribbean landing site is surrounded by high hills, and both ends of the runway drop into the sea.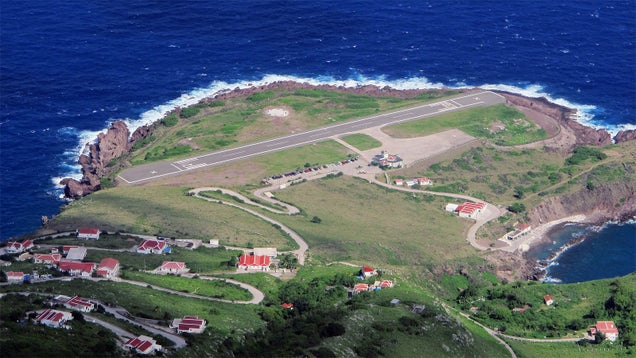 S
Photo: Patrick Hawks
---
Wellington, New Zealand: short runway, hilly landscape, strong crosswinds, turbulent landings.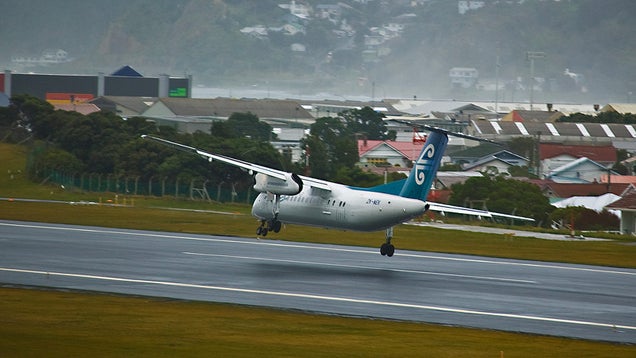 S
Photo: Phillip Capper
---
Williams Field, Antarctica, has two snow runways limited to ski-equipped aircraft during the summer season. Airplanes land on 8m of compacted snow, lying on top of 80m of ice, floating over 550m of water. Must be a blood-chilling experience.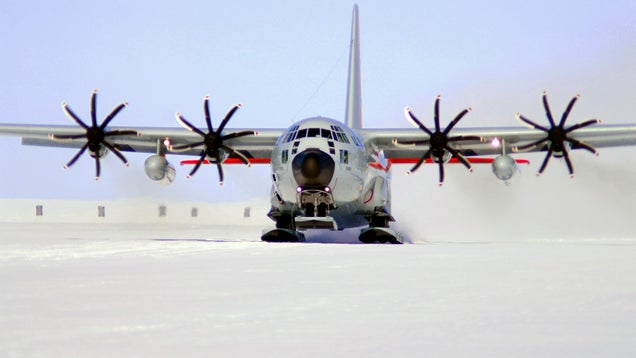 S
Photo: U.S. Air Force
---
Top image: Target for Tonight-Toronto, O'Keefe's ad (Mayfair, March 1944) via Jamie
Do we miss something is the list above? Post your favorite below!