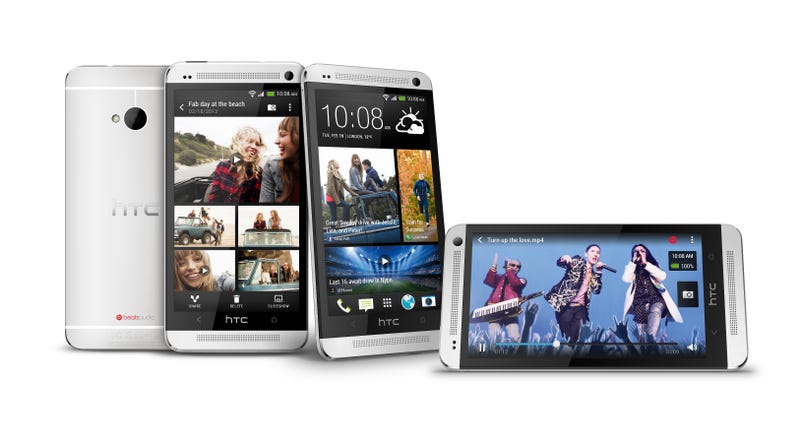 Carved out of a solid block of aluminum, HTC's great white hype is the oft leaked One aka M7. It's what the company is touting as its new flagship device today in New York. And in typical HTC style, the One has one or two new software features to help differentiate itself from the rest.
It has what you'd expect from a brand new smartphone: 1.7GHz quad-core Snapdragon 600 proc, 32 to 64GB of onboard storage, 2GB of RAM, Bluetooth 4.0, NFC, LTE and a 2300mAh battery. The screen is a whopping 4.7 inches with a 468ppi 1080p display. But all of that is a snooze when you find out that it's running Android 4.1.2 wrapped in a newer version of HTC's Sense. Luckily the One has some more interesting features in the bag.
Like the Nexus One before it, the One is shaved out of a solid block of aluminum and I'm told it takes roughly 200 minutes to carve out each unibody casing. It looks quite hefty, like Lumia 920, but is surprisingly light and cold to the touch, which I liked. It weighs 143 grams and the tapered backside made it easier to handle, too. Unlike some of HTC's previous phones, the One feels like a premium device.
The most interesting thing about the One is its 4-megapixel camera. Yeah, you read that correctly. Well, according to HTC's marketing folks, it isn't megapixels but UltraPixels with each allowing 300 percent more light. HTC's demos show its larger pixels performing really, really impressively in low light, but we'll reserve judgement until we put it through its paces. In theory, though, HTC is right—megapixels don't really matter. A dedicated ImageChip 2 helps boost the prowess of the f2.0 lens, which claims to simulate a normal 28mm lens. I had a few minutes with the device last week and picture quality seemed to be pretty good but who can really tell when you're looking at images on the device itself. We don't have all the details about how the tech works, but it does seem pretty reminiscent of Sigma's "46 megapixel" sensor, which is really three 15.4MP sensors laid on top of each other—one each for red, green, and blue.