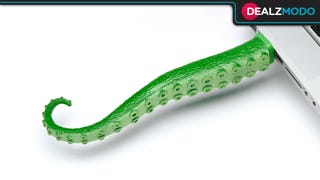 We're big fans of ThinkGeek here at Gizmodo. They carry some really cool stuff that you can't get anywhere else, but like all superfluous-yet-undeniably-dope toys, the price has got to be right. You can't shout "shut up and take my money" if you've got to check your bank account first.
Right now, ThinkGeek's offering a rare coupon code that takes 20% off everything. Shipping's $6, or free when you spend more than $75. The code's BLUERUPEE. Don't know what to use the code on? Well, the impossibly creepy USB tentacle flash drive pictured up at the top is a good start. [ThinkGeek]
Update 3:25: Unfortunately, it looks like free shipping doesn't stack with the 20% off code.

Here are some more suggestions to get you started:
---
---
---
---
A few notes: In Zelda, the blue rupee is worth 5 rupees. Shouldn't the coupon be something like "redrupee"? Also, if you want more shopping inspiration, here's the list of ThinkGeek products that Gizmodo's written about. And if you've had your eye on something for a while, let us know in the comments (after you cop one for yourself.)
---
The Internet was made for window shopping. Dealzmodo does it the best. Follow @dealzmodo

---
Top Deals
Eric Limer used Republic Wireless' unique $19-a-month smartphone plan for a whole year, all in the spirit of saving money. Here's what he learned.