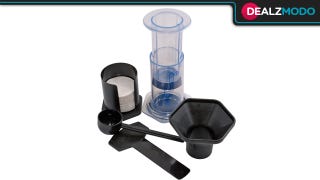 The Aeropress is a cult coffee maker that is absolutely adored by its devotees. In fact, there's an annual international competition to see who can make the best cup of coffee using an Aeropress. (This year it's in Melbourne, Australia.) Coffee snobs love the Aeropress because it is perfect for experimentation and has a superfast brew and extraction time. Other folks just like it because it's cheap and simple to use.
Last night, Amazon dropped the price on the Aeropress another four dollars, and Amazon already had the best deal available on this coffee tool. Now it's $23 and eligible for Super Saver shipping, which'll probably save you $10 over going into a Williams-Sonoma and buying one. At that price, it's a great secondary coffeemaker to experiment with if you already have a french press or drip machine, especially if you're on the slippery slope to becoming an insufferable coffee elitist. [Amazon]
Note: If you need a few bucks to qualify for super saver shipping, pick up some filters because you're going to need them anyway.
If you wanna make great coffee, read this Giz Explains column by Gizmodo alum and self-proclaimed coffee nerd Matt Buchanan.