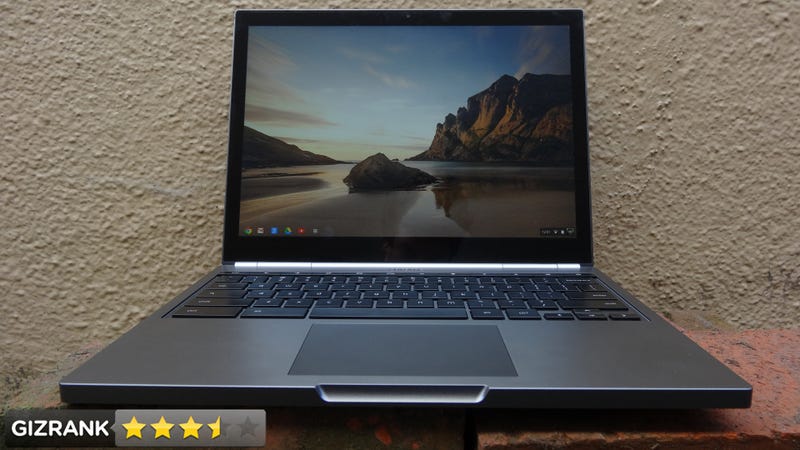 Google set out to build "the best laptop possible." The result: the Chromebook Pixel. A sleek and powerful device designed specifically for life in the cloud. If the display doesn't make your jaw drop, the price tag will.
What Is It?
The Pixel is the latest iteration of Google's Chromebook series. But unlike the $250 beat-around that preceded it, the Pixel focuses on high-end features like a Retina-rivaling, pixel-packed touchscreen display and powerful Intel i5 CPU. It runs Chrome OS, Google's browser-based operating system.
Who Is It For?
It's certainly not for everybody. Google says that the Pixel is built "specially for power users who have fully embraced the cloud" and both its performance and price tag seem support that claim. But really, few folks beyond those already heavily invested in Google's online services actually meet that definition. Or Google fanboys. People married to a specific program like Photoshop or Garage Band and need the specific functionality that the program provides won't have much use for the Pixel. However, if your normal workday is almost entirely browser and cloud based—like mine is for example—or you've just fully bought into the Cult of Google, the Pixel can be incredibly useful.
Why It Matters
It's Google's first foray into the high-end market and a direct assault on a segment held by rivals Apple and Microsoft's legion of manufacturing partners. Google appears to be giving Chrome a legitimate shot at establishing itself as a viable OS. Chromebooks up until this point cost $250 and performed like it. They were great as secondary laptops, something to give your kids to destroy so they'd keep their grubby mitts off your MBA. But the Pixel is built as an ultrabook competitor, not merely a stand-in. This is especially significant given Google's popularity among the huddled masses. With the meteoric rise of Android, Google's shown what its software can do with the right hardware partners. The Pixel looks to be the company's first steps towards doing the same with Chrome OS. By providing it with inarguably top-rate hardware, Google has freed Chrome OS to succeed or fail on its own merits.