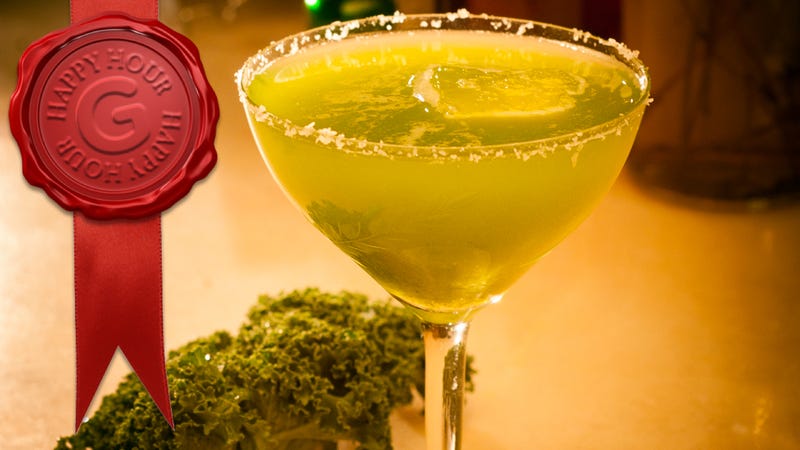 Do you know what's great about green beer? Absolutely nothing, you filthy animal, that was a trick question. To help you rise above those green-toothed suckers swilling down their flavorless lagers, we tapped a few of the country's top bartenders and got recipes for some truly delectable cocktails that just happen to be green. Get ready to blow some minds.
It's Friday afternoon, you've made it through the long week, and it's time for Happy Hour, Gizmodo's weekly booze column. A cocktail shaker full of innovation, science, and alcohol. Pinch me.
---
Shamrock Cocktail
First off, we have a cocktail custom made for the occasion. It comes to us from mixologist Freddy Diaz, president at Alambiq, a mixology consulting company based out of Florida.
Ingredients:
1 1/2 oz. Plymouth Gin
1/2 oz. Pernod Absinthe
3/4 oz. Freshly Squeezed Lime Juice
1/2 oz. Simple Syrup
1 Egg White
Angostura bitters
Add ingredients in a shaker glass. Dry shake without ice to emulsify egg whites. Add ice and shake vigorously, then strain in a chilled coupe glass. Garnish with an Angostura Bitter sprayed shamrock. For shamrock garnish, draw or print out a picture of a shamrock and cut out on a plastic sheet or hard cardboard paper. Add Angostura bitters to a mister. Place template over glass and spray over cocktail until you have your Shamrock.
---
Green Giant
This next one comes to us from Tom Macy, head bartender at the Clover Club (Brooklyn, NY). His green drink is like sipping nature. It's the very appropriately named Green Giant.
Ingredients:
2 Hayman's Old Tom Gin
.75 Lemon
.75 Simple syrup
.5 Dry Vermouth
4 sugar snap peas (halfed)
8-10 fresh tarragon leaves
Muddle 4 halved sugar snap peas and 8-10 tarragon leaves in simple syrup. Shake and strain into rocks glass with crushed ice. Garnish with two snaps peas.
Ho ho ho.
---
Hada Verde (Green Fairy)
Our next stop is with our dear friend Anne-Louise Marquis, who has helped us out on more than one occasion. She reps Pernod now, which just happens to be green, don't it? Her go-to green drink is the Hada Verde, or Green Fairy:
Ingredients: