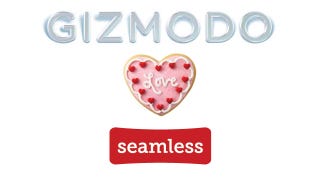 You're already prepped for Gizmodo: The Gadget Testers on BBC America tonight, right? Right? But how are you fixed for snacks? Don't fret: our foodie pals at Seamless are going to hook you up with an exclusive internet delivery coupon for tonight's broadcast.
You don't want to have to slave over a boiling stew or keep an eye on some ticking oven. You want to sit on your couch with a bucket of [Chicken/Sushi/Nachos/Ketchup] clutched in your arms while you watch our hosts battle one another to find the best of the best of the best. We want that to. So:
We're teaming up with Seamless to give you a special discount code for tonight's premier: $7 off any order of $25 or more (for new and existing customers). That's a sweet (or savory) price for enough food to feed you and your Gizmodo-watching pals tonight.