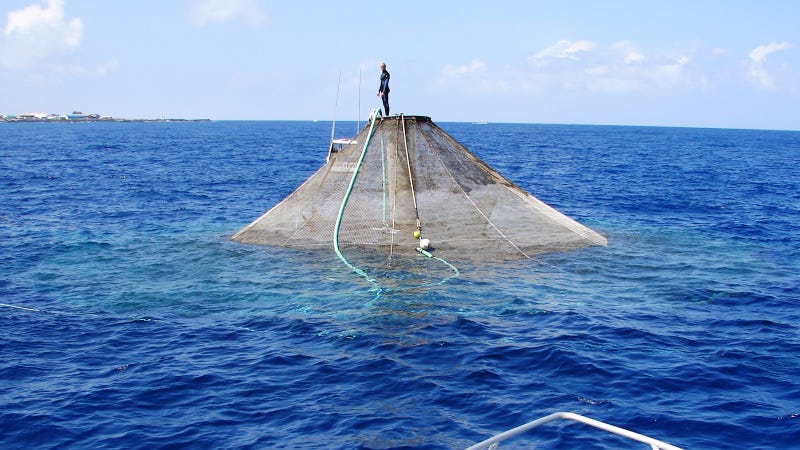 Shrimp fountains don't grow on trees, you know—nor do Ahi Tuna steaks, Fish McBites, or fried calamari. But that hasn't stopped an increasingly affluent human population from annually demanding more and more seafood. As a result, an estimated 85 percent of the ocean's fish stocks are now either fully exploited or overfished. But an ancient form of aquatic farming, and current $60 billion-a-year industry, may hold the key to both protecting wild fish populations and your local sushi shop.
Conventional current fisheries are facing a crisis of supply, as any show on the History or Discovery channels can tell you (looking at you, Big Shrimpin'/Deadliest Catch/Swords/Wicked Tuna). Not only are fishermen pulling fewer fish out of the sea, the ones that are harvested are far smaller than those caught just a few decades ago. What's more, overly broad Area of Effect methods used to capture desired fish—long lines and trawl nets, for example—all too often ensnare and kill marine mammals and fish, known as by-catch, or damage delicate habitats. While many countries have enacted strict treaties and regulations dictating what, when, and how many fish can be gathered during a season, many fisheries are still treated, essentially, as non-renewable resources.
But that's changing with the help of aquaculture. This practice is the agricultural revolution to industrial fishing's hunter-gatherer method. Instead of sending out fleets of ships across the ocean in search of wild quarry, the fish are bred and raised in enclosed, human-controlled (or at least monitored) environments.
According to the Food and Agriculture Organization of the UN (FAO), aquaculture "is understood to mean the farming of aquatic organisms including fish, mollusks, crustaceans and aquatic plants. Farming implies some form of intervention in the rearing process to enhance production, such as regular stocking, feeding, protection from predators, etc." We're domesticating fish and doing a damn fine job of it with the annual production volume of farmed fish on the verge of surpassing wild-caught. The US aquaculture industry alone produces over a billion dollars worth of seafood annually. We didn't invent it though.
In The Past
Aquaculture has been around since at least 6000 BC when the indigenous Gunditjmara people living near what's now Victoria, Australia began raising eels in a 39 square mile patch of volcanic floodplains controlled by channels and dams. The Chinese raised carp trapped in lakes by receding flood waters for food as far back as 2500 BC (and through their efforts, invented goldfish). The Romans bred fish in grand ponds, as did early Christian monasteries throughout Europe in the Middle Ages.
While dropping transportation costs and increasing speeds made moving fresh fish inland feasible and reduced the demand for aquaculture by the middle of the 19th century, research continued. Both experimental and commercial hatcheries opened throughout the US and Canada during that time, including the Woods Hole hatchery which operated from 1885 to the 1950s, and the Dildo Island fish hatchery in Newfoundland, which was the most advanced hatchery to date when it opened in 1889, producing and releasing 200 million cod per year back into the North Atlantic. Even aquatic plants like seaweed and kelp have been intentionally grown for harvest. Californians harvested and managed kelp supplies during WWI as they did other wartime resources.
These efforts were modest at best though, often more just a way to keep wild-caught fish until ready to eat rather than the fully-domesticated agricultural systems developed for cattle or chickens. In fact, only three percent of the roughly 443 maritime species raised in 2007 were domesticated before the start of the 20th Century and 106 of those species being domesticated only within the preceding decade.
Fish Out Of Water
Today, however, the US is the second largest seafood importer worldwide and one of its largest exporters. US aquaculture raises salmon, tilapia, striped bass, sturgeon, walleye, catfish and yellow perch as well as sport fish like rainbow trout and bait fish like minnows. Catfish is the largest US aquaculture sector, notching 40 percent of all sales. They're typically grown in large freshwater ponds throughout the Gulf Coast as are most of these other species, save for the salmon, which are grown in fresh water tanks then transferred to salt-water pens to mature. Crawfish, abalone, oysters, clams, mussels, even alligators and turtles are all produced in large aquaculture systems throughout the country. Aquatic plants destined for wetland restorations and algae like spirulina that's used for nutritional supplements and fish food are also regularly grown using aquaculture.