Facebook Home isn't a Facebook Phone, nor is it really "a bunch of apps," or a new operating system. It's an admission: Facebook means a lot to me, and is an interesting view of my life—and I want to look at it all the time, everywhere I go. If that sounds like you, Home is where your heart should be. If not, your phone will become something you hate.
Facebook Home doesn't do much because it's designed to not do very much. When you tap most Android phones to life, you trigger the information equivalent of someone shouting directly into your face, replete with spit flecks. Depending on your setup, you'll see a clock, clouds, weather, emails, news, IMs—a frothing info stew. And that's the point! Android lets you jam as much as you want into it.
Facebook says: no more. Stop. It's time for everyone to chill the hell out. Put your widgets away, stop spreading graphics and boxes and whatever the hell across your screens. You're making your phone and your life more complicated than they need to be. Don't worry about customizing a topography of at-a-glance inboxes and icons. Let Facebook take care of everything.
At least that's the pitch.
Design & Using It
Facebook Home is mostly large pictures with large text sprayed over them. What Facebook purports to be the brightest, shining, most valuable (and relevant!) nuggets from the News Feed are plucked, polished, and smelted into what's called the Coverfeed: a graphical transposition of the normal info digest.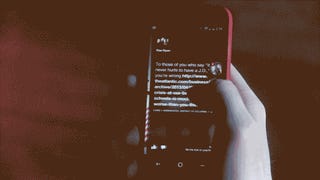 Turn on your phone. Maybe the first thing you see is three girls in costumes—oh, Margaret changed her cover photo to a recent party. Swipe to the right. Hey, it's Boo the Dog with a friendly message, who now appears on my phone because I follow his Facebook page. He looks furry and svelte as ever. Swipe. Boring. Swipe again. Doug says he had a good weekend. Good update, Doug. Stephanie was at a bar—here's the photo to prove it. Swipe, swipe. A link to an interesting-sounding article from a smart friend.
And that's where Coverfeed stops working mostly as a slideshow screensaver. Click that link, and Chrome pops open, like on any other Android phone.
Tap the comments icon to leave some pithy insight.
Double tap your friend's photo of an attic to like it. Swipe!
It's a diet version of Facebook, sparse in that it's just one photo and a string of words at a time. But it still hits you as tangy and effervescent, with the same Let's make everything big and bright ethos that's been driving FB since Timeline beamed down. You can still participate, though, instead of merely witness. Facebook is an oily, glistening, fragrant spread of tall cakes and red meats, from one end of the table to another. Facebook Home is visual tapas. Or something, I have a stomach ache.