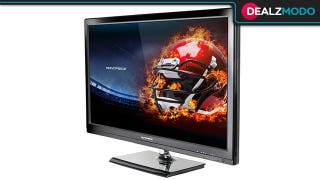 Monoprice is taking pre-orders on a 27-inch, 1440p IPS monitor. It runs at 2560x1440—the same resolution as a 27" iMac. The panel is even made by LG, which is Apple's supplier for both the Thunderbolt Display and the iMac. This is a big, beautiful, pixel-dense screen.
Fans of big, beautiful displays first noticed cheap WQHD panels about a year ago, when monitors made by Korean brands like Crossover and Yamakasi started showing up on Ebay. They were—and still are—quite the deal. The Wirecutter recommended them for folks looking for a 27" monitor on a budget. But they were shipped from Korea, and if you found dead pixels, well, good luck shipping it back. It wasn't an easy deal to score.
Then Micro Center started selling a model, and a company called Nixeus got in the game too. Even so, the cheap LG-paneled displays only really went mainstream when Monoprice started selling them. But Monoprice's version was extremely popular: it was almost never in stock, and when Monoprice found more, they sold out within minutes.