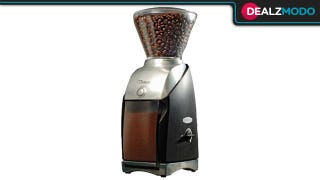 The most important—and expensive—coffee gadget for a home cupper is a burr grinder. Good coffee requires even extraction, and no matter how many fancy coffee makers you own, if you're not using a burr grinder, you won't be able to achieve the consistent grinds necessary for most coffee recipes, especially if you want to make good third-wave espresso at home. For coffee people, Baratza's line of stepped burr grinders are the preferred home grinders.
Baratza makes burr grinders starting at $90, like the Encore, which is a good coffee grinder for someone who just wants to make pourover in the morning. But stepping up to the Baratza Virtuoso gives you much more flexibility—you can get a more consistent grind at course sizes, and it uses the same burrs as Baratza's top-of-the-line Precisio. Read Coffeegeek's technical whitepaper if you want to know more.
A good burr grinder isn't cheap, but right now at Rakuten you can get a new Baraza Virtuoso for $202 shipped, which is $30 less than Amazon's price and $50 less than you'd pay at your local snobby coffee emporium. Don't forget the code SPRING10. [Rakuten]
Note: As sometimes happens when you're playing with fiery hot deals, the Baratza sold out five minutes before post. Sorry. Dealzmodo hates it when that happens. The next best price is probably $230 from Amazon, but we're gonna keep an eye on Baratza grinders, and if there's another deal, we'll let you know.
If I had to pick another deal of the day, I'd probably go with Newegg's Shell Shocker. It's a 2TB Toshiba desktop hard drive—with USB 3.0—for $80 shipped. [Newegg]
Update: So looks like the code SPRING10 works on this alternate Breville burr grinder. It's not a Baratza, but it's fairly well-reviewed, and it's only $165 at Rakuten. That's $30 less than Amazon. [Rakuten] h/t 9to5Toys
Don't spend more money than you need to. Follow @dealzmodo

Top Deals
• Baratza Virtuoso Stepped Burr Grinder ($202) | Rakuten | Originally $250
• 2TB USB 3.0 Desk HD ($80) | Newegg via Dealmac | Originally $120

---
Accessories
• PNY 16GB Flash Drive ($10) | Best Buy via Deals Kinja | Originally $15
• Duracell AA Batteries ($15) | Midnight Box via Ben's Bargains | Originally $20
• Microsoft Wireless Desktop 800 ($17) | Rakuten via Deals Kinja | Originally $30
• 2TB USB 3.0 Desk HD ($80) | via Dealmac | Originally $120