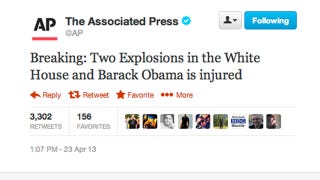 The Associated Press just tweeted one of the most terrifying things you could possibly read. But don't worry. It's fake, and not just because it's unbelievable. The tweet's not in AP Style.
First of all, breathe easy: the @AP account has already been suspended and according the AP's corporate communications, the tweet was bogus.
Even the AP Stylebook has come out and said the tweet is fake.
And it's fitting that the Stylebook would know since the tweet obviously wasn't following the AP's rules for momentous news. The AP usually tweets the word "BREAKING" in all-caps. The tweet today was styled as lowercase, "breaking". Also, the AP—like all Gawker Media sites—uses a service called SocialFlow to publish tweets whereas the fake AP tweet was sent from the web.
Not to mention that by now you should be very skeptical of everything you read on Twitter. Even well-intentioned tweets can mistakenly lead people astray, and accounts belonging to big publications are frequently hacked. A huge amount of this hacking could be eliminated, by the way, if Twitter simply adopted two-factor authentication like Google, Facebook, and Microsoft already have.