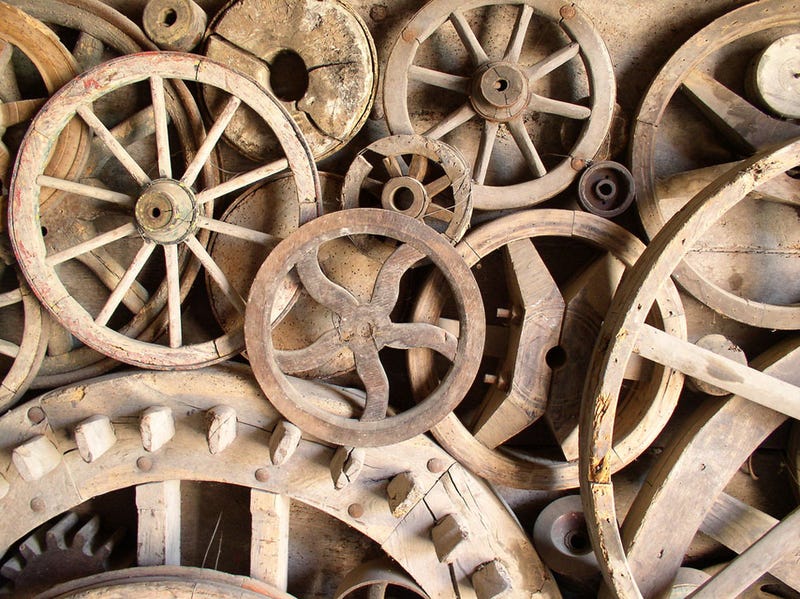 The stuff we see, touch, and use everyday might not, at first thought, seem museum-worthy, but there are fascinating tales hiding within even the most below-average hunks o' junk out there. Sometimes all it takes is context to elevate the mundane to legendary status.
We've rounded up a handful of exhibitions and collections that celebrate the stories—both real and fictional—that make ordinary things into classics, and showcase the inherent beauty in simple, tactile pleasures. Whether they're tracing the history of a particular city, preserving personal memories, or fleshing out the timeline of our whole dang human world, these inanimate items have quite a bit of life left in them.
---
Okay, admittedly there are quite a few pieces in this collection—rounded up by the BBC and the British Museum to mark how our human world has evolved—that are not common at all (not too many Rosetta Stones out there...). Maybe the most fascinating, though, is one of the first and one of the most basic: a stone chopping tool from the Olduvai Gorge in Tanzania that happens to be the oldest, artificially shaped object in the entire museum. It's a pretty safe bet that whoever made this wasn't thinking their handiwork would be on display for all the Internet to see, but here you go; now we can imagine what life was like way, way, way back. Like two million years ago back. Incredible. Plus, the curators pose an interesting question: Can we be considered human without tools? What do you think?
Stone chopping tool from the Olduvai Gorge in Tanzania
---
Starting with a mastodon tusk dating back to 11,000 BC, New York has a ton of ephemera that's made the city what it is today—an amazing urban hub that sits smack dab at the center of the universe. Inspired by the British Museum and the BBC (above), the paper of record told the story of its city in 50 different items. Oysters, Singer sewing machines, bagels, and the 1955 World Series Banner all made the list—but what did they miss? (Also worth checking out the NYT's ongoing Who Made That? series, which gives insights into the origin-stories of things you generally don't think twice about.)
The Checker Taxicab was a Manhattan staple from 1952 to 1986, before Taxi TV and paying by card was but a glimmer in anyone's eye.
---
L.A. turned 232 this year! Happy birthday, L.A.! To celebrate its unique past, Los Angeles Magazine (with a h/t to the New York Times and BBC) picked out 232 objects that shaped the City of Angels. Some are more surprising than others, and they're not all glitzy glamorous Hollywood. Here's the hearty Cobb Salad, invented by the owners of the iconic Brown Derby restaurant in the 1930s.