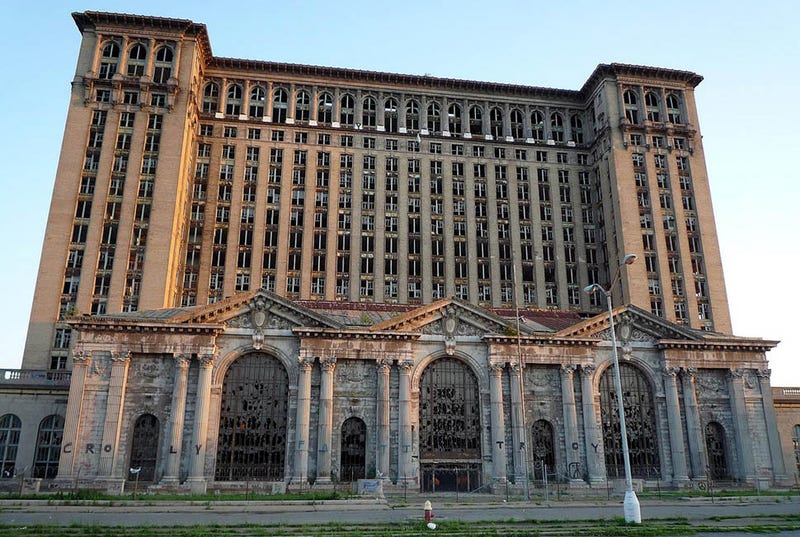 If you've watched with envy as the internet fills up with endless photo galleries of abandoned buildings in Detroit, perhaps now is your time to get in on the action: for the low, low price of only $45, you can buy a ticket and take locally-run "tours of abandoned factories, churches and schools." A Detroit ruin tour takes 3 hours, and taps into your inner J.M.W. Turner.
Reporting on one such tour, the Los Angeles Times described a kind of Urban Exploration Lite™:
Led by tour guide Jesse Welter, [attendees] crawled on their hands and knees to peek inside a train station closed long ago; they squeezed through a gap in a fence to climb the stairs of what was once a luxury high-rise; they ducked under crumbling doorways to see a forgotten ballroom where the Who held its first U.S. concert.
The paper adds, however, that "it's not legal, per se, to enter these buildings. Police will give $225 tickets for trespassing if people enter schools, Welter says, but have otherwise told him they don't mind him going into other buildings."
And there are a lot of "other buildings." After all, the numbers are not good for Detroit, as the city has reached the astonishing point where nearly 85% of the city has "experienced population decline," the Times points out. This doesn't mean that 85% of the city is empty, but it does mean that the receding tide of residents—not to mention the city's already well-publicized financial difficulties—have led to its surreal shell-like existence, with once grand houses now surrounded by resurgent meadowlands and whole streets seemingly consumed by trees.
The over-riding puzzle remains of what exactly to do. Indeed, Detroit and New Orleans both have become the heavily patronized cause du jour for many self-styled urban theorists seeking a target for their spatial plans and socio-utopian aspirations. Should we give away houses for writers to help revitalize neighborhoods? Should we ask residents what they want to do before they die? Should we turn Detroit into the world's largest urban farm?