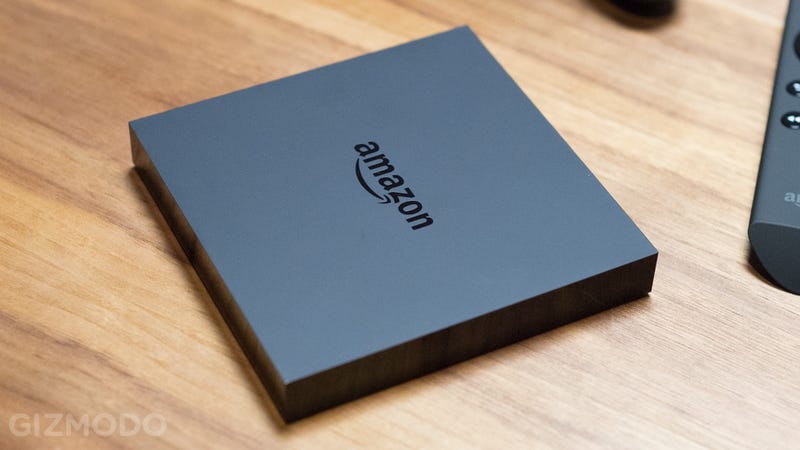 Amazon has kicked off its arrival to the streaming party with the announcement of new $100 device called Fire TV to satisfy all your TV watching needs today in a popcorn-scented New York event. Here's everything you need to know about it.
Amazon used three pillars of what competitor devices like Roku, Apple TV, and Chromecast do wrong—search, performance/slow apps, and a closed ecosystem—to illustrate what Fire TV does right. Amazon's device is a box you plug into your TV that runs on an open Android ecosystem and comes with plenty of apps including Netflix, Pandora, Hulu Plus, Crackle, and more. Unfortunately, it lacks HBO Go and Vudu, which is a damn shame. Regardless, you can either buy or rent shows right on the menu. Everything about Fire TV seems to place emphasis on the word easy—easy to use, easy to find stuff to watch, and so on.
FireTV is a little black box with a quad-core processor and its very own dedicated GPU. It has 2GB of RAM, Mimo dual-band Wi-Fi, which enables it to boast three-times the speed of Roku, Apple TV, and Chromecast. It supports 1080p streaming, and includes Dolby digital surround sound out via HDMI out. It is insanely thin. It comes with a thin, sleek, small black remote that works via Bluetooth. You will probably lose this small remote.
The interface is pretty simple. It's a black, easy-to-read home screen where things like your watchlist, movies and TV shows and search are listed. And it moves quickly, at least in a demo. It features added convenience factors—for example there's a feature called ASAP that, when you click the Play button on the remote, it starts playing your movie or whatever instantaneously. It also predicts what you want to watch. As if you needed another incentive to watch more TV.
Fire TV also has voice search. It works well on stage—when the Amazon exec said "John Malcovich" into Fire TV's remote, Fire TV showed everything the actor has ever done insanely quickly, with integrated info from IMDB included. Now, previous efforts on voice search have not been so successful, and it seems to work well on stage, but it also remains to be seen whether it's something anyone actually wants.