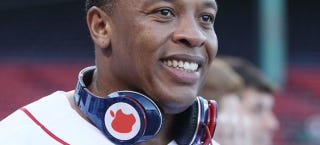 After weeks of rumors and speculation, Apple has officially bought Beats By Dre for $3 billion. The deal includes both Beats' immensely lucrative headphone business and the recently launched streaming audio service. Beats founders Jimmy Iovine and Dr. Dre will join Apple. That's right, Dr. Dre works for Apple now.
There has been a lot of speculation about what exactly Apple wants with Beats, and the truth is that it's probably just a really good buy. Beats makes a lot of money, which Apple knows because Apple sells loads of the headphones through its retail outlets.
Of interest, however, is Apple SVP Eddy Cue's statement from the release.
"Music is such an important part of Apple's DNA and always will be," said Eddy Cue, Apple's senior vice president of Internet Software and Services. "The addition of Beats will make our music lineup even better, from free streaming with iTunes Radio to a world-class subscription service in Beats, and of course buying music from the iTunes Store as customers have loved to do for years."
For some time, people have been wondering when Apple would dive wholeheartedly into the streaming music business and it appears that it's going to use Beats' existing service as its ticket in, rather than trying to dismantle Beats and building a new alternative. There will be, for the time being at least, three different Apple-owned music services: Beats Music, the iTunes Store, and iTunes Radio.
The Beats Twitter proudly announced the deal with a reference to a great song.
Now the question is what sorts of roles Dre and Iovine will take at Apple. Both are experienced music moguls so they could lend some of that expertise to Apple's music services. It's by far the biggest Apple acquisition of all time, so it's hard not to think they've got more in mind than simply buying the existing Beats business.
Update:
9to5Mac obtained Tim Cook's letter to employees. These are the choice paragraphs: