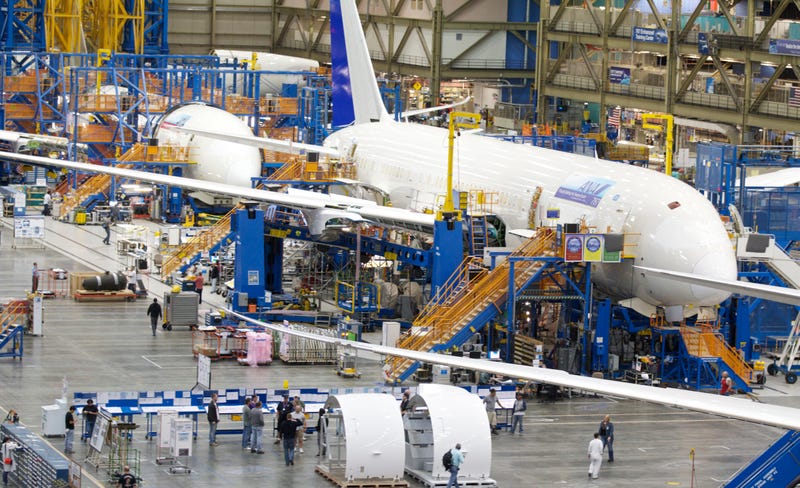 The Wall Street Journal reports today that Boeing's long-suffering 787 Dreamliner has hit yet another snag: At least 42 newly-produced jets may have hairline fractures along the wings. Luckily, the planes haven't been delivered to buyers yet, but it's still bad news for Boeing.
It seems the cracks may have resulted during the early stages of manufacturing. Boeing's wingmaker—Mitsubishi Heavy Industries Ltd—reported that the problem was sparked by a recent "change in its manufacturing process." That's somewhat of a surprise according to the WSJ, since Japanese manufacturers are generally looked upon as the gold standard for other plants, including Boeing's own.
The good news? The cracks don't affect any Dreamliners that have already been delivered, and Boeing expects repairs to take only a week or two for each plane:
A spokesman for Boeing said it expects each airplane will take one to two weeks to inspect and correct, depending on its position in the production process. About 17 of the 42 aircraft are fully completed and seven have been undergoing pre-delivery flight tests, according to external sources tracking the program.
Still, this is just the latest installment in the Dreamliner's long debacle—in January, Reuters reported on yet another smoking Dreamliner battery. And only a few days later, a passenger aboard one plane captured video of fuel pouring from a wing (which, according to some, was not related to a malfunction). It's enough to make you wonder if Boeing ever catch a break—other than the ones in the Dreamliner's wings, of course. [Wall Street Journal]