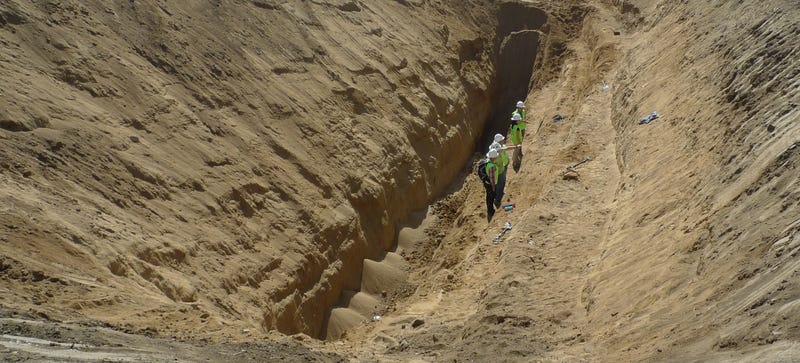 The 4.4 jolt that shook Angelenos awake this morning was the latest reminder of our complicated relationship with the ground below us. But I had a different perspective of what was happening under my feet this time: Just before this latest earthquake, I took a walk along Hollywood's fault lines with Dr. Lucy Jones, Los Angeles's first Seismic Risk Advisor.
It's a title that Jones assumed early this year, making her the first city-appointed seismologist in the country. There could be no more appropriate place for such a role. "This is by far the most interesting geological place in the U.S.," she says. "Which is a little more problematic for the people who live here."
Due to her roles at the United States Geological Survey and California Seismic Safety Commission, Jones has been known for years as the "Earthquake Lady": You've probably seen her on TV already since she's the go-to for quotes and commentary after major seismic events (and was again today). Jones has the ability to make quake talk accessible, understandable and often highly entertaining; she has a great sense of humor and her language is blissfully jargon-free. In fact, Jones freely admits that a large part of her job is acting as translator between scientists and the general public.
I see this in action when Jones conversationally rattles off a list of what might be terrifying statistics—if it wasn't for her authoritative, down-to-earth tone. Southern California has 300 faults large enough to produce a 6-magnitude or greater earthquake. We also have the 800-mile-long San Andreas Fault, the largest fault in California. It's been 330 years since the last earthquake that could be considered a "Big One." If you look at it from a financial risk, which is the information that's critical to recovery, Southern California carries half of the earthquake risk of the entire United States. Los Angeles County alone carries one-quarter of that risk.