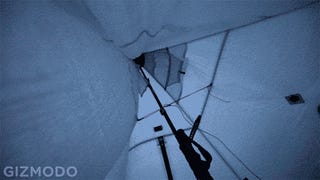 Without a floor or even its own support poles, can a tarp do as well as a tent in high winds, heavy snow and pouring rain? We think one can actually do better, at least if its this Hyperlite Mountain Gear UltaMid 2 we're currently living out of it in Iceland.
What It's Supposed to Do? The 18 oz UltaMid 2 ($675) is a floorless Cuben Fiber pyramid shelter that provides maximum protection from the elements at a minimum weight. It can be used for backpacking, alpine climbing, ski touring, packrafting, or any other weight-critical adventure activity. It is completely waterproof and designed to withstand high winds. The pyramid's steep walls and strong construction materials make it great for handling snow-loading as well. The UltaMid features a massive interior volume for its weight and packed space, making it a great choice for extended trips where livability is a big concern, or for waiting out bad weather.
A huge advantage of Cuben Fiber is that it never wets outs; therefore won't take on water weight.




How It's Supposed To Do It? The biggest contributing factor to the UltaMid's light weight and strength is its use of the space-age material Cuben Fiber. CF is 15 times stronger than steel, is stronger and lighter than Kevlar, and doesn't lose its technical integrity when folded or crinkled. Cuben Fiber is also 100% waterproof, meaning gear doesn't wet out or absorb water weight. Additionally, the UltaMid is a pole-less shelter. Instead of traditional tent poles, it utilizes trekking poles, skis, oars, or whatever else you can find as a center support. By using supports that you're already carrying, it cuts down on overall weight. Chances are that the supports you're carrying are stronger than traditional tent poles too.