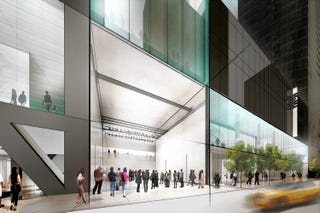 This week, MoMA confirmed its plans to raze a neighboring museum, creating a continuous connection to the luxury supertall going up next door.
The smaller museum is called the American Folk Art Museum, and it's only been around since 2001—it's not even a tween. When MoMA announced it would take over the Folk Museum's considerable debts and demolish the building, protests erupted over the idea that a notable piece of (very new) architecture was being razed just to make way for MoMA's second major expansion in less than a decade. At the time, MoMA decided to reconsider.
The American Folk Art Museum, with MoMA to the right and the future location of Museum Tower to the left. Image: Andrew Burton/Getty Images.
This week, it announced its decision: The Folk Art Museum would go. It's a difficult situation—the small building has its flaws, and some argue that its construction played a roll in bankrupting the Folk Art Museum in the first place. And MoMA must have a good reason, right?
Well, sort of. The tiny Folk Art Museum was the last remaining sliver of real estate separating MoMA from Jean Nouvel's 1,050-foot-tall Museum Tower, a supertall that had been stalled until a coalition of Asian banks dropped $1 billion on it in October. Construction will now begin this year: