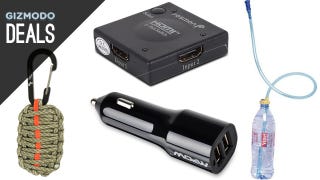 There are car chargers, and then there are car chargers. This model from Mpow features two USB ports, and 20W of power, which means you could charge two full-sized iPads at nearly full speed at the same time. At $7, why not?
---
Here are a couple of solid sets of cheap headphones on sale, including one that's both Bluetooth and waterproof.
---
There's not much to say here other than that it's an HDMI switch for $6. If you think you might need one, this is a great price.
---
This ingenious device turns just about any standard water bottle into a makeshift Camelbak, at only a fraction of the cost.
---
Here's a new program to get book lovers excited. Every month, Amazon will offer Kindle downloads of four not-yet-released books. Anyone can pick one to download for just $2 and read it before the release date, or Prime members can choose one for free. You can check out the first slate of books and sign up for email alerts here, or save yourself the $2 by signing up for a free Prime 30 day trial.
---
Today in the no-brainer category, Android owners can get $20 worth of Android apps, in the form of Amazon coins, for $7. All you have to do is buy GTA: San Andreas from the Amazon App Store, which costs 7 bucks and comes with 2000 free coins ($20). If you want the game then all the better, but either way, you're getting $13 to spend on apps for free. [GTA: San Andreas with 2000 coins, $7]
---
Pre-order and save on Cosmos: A Spacetime Odyssey. This was going for over $50 until now, and if it goes any lower before release, you'll be covered under Amazon's pre-order price guarantee. That guarantee only covers you after you order though, so if the price shoots back up before you lock in your preorder, you won't be able to get this deal.
---