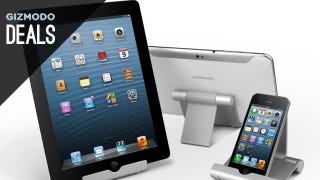 This handy gadget stand is more flexible than any case; and it'll work with a lot more of your products too. Personally, I could see it being a huge help in the kitchen.
---
MEElectronics M9P Flat Cable In-Ear Headphones | $21
---
The newest Chromebox is coming out a week from today, and you can preorder it now. The box ships with an Intel processor, 16GB of storage, and all the ports you need to use Chrome apps on any screen in your house. It even supports 4K playback, if you have a fancy new TV.
---
It's the streaming stick you've all been waiting for. The Chromecast was sold out everywhere a few weeks after launch, and we expect the same will be true of this. Lock in your preorder now to receive it on launch day, and enjoy the peace of mind of Amazon's preorder price guarantee.