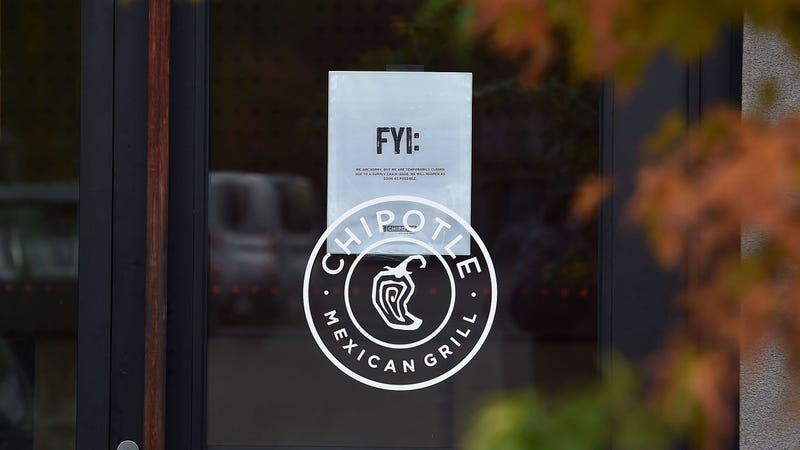 I'm afraid of food poisoning. So the never-ending news of nationwide E. coli outbreaks linked to Chipotle is terrifying. But it's not just the fear of bacteria-laced burritos that's scary. It's the faulty farming system that Chipotle's pioneered.
Update 1.15.2015: Chipotle just announced that it would be closing every single store for a food safety meeting on February 8. The stores will only be closed for a few hours. But clearly, I'm not the only one who's afraid of this problem.
What scares me so much about this outbreak situation isn't the idea that Chipotle makes dirty salsa. It's honestly terrifying to see how the systemic failure of the chain's progressive sourcing strategy can cause real harm to people. Chipotle loves to brag about buying local and organic ingredients, but what the ads don't tell you is that Chipotle knows this decision makes its food less safe. Now, we know why.
The Centers for Disease Control (CDC) announced on Monday that it was investigating E. coli outbreaks that infected five people in three Midwestern states. All of them had eaten at a Chipotle within a week of getting sick. I live in Brooklyn, so it seems paranoid to think that Chipotle's locally sourced meat and produce might make an appearance at my local restaurant.
But it's not—not necessarily. The last round of Chipotle-related E. coli outbreak news came out a few weeks ago, and that time, dozens of cases were reported in states all over the country, from California to Ohio to New York. There were also earlier cases reported in Oregon, Washington, and Minnesota. Chipotle thinks that all of the cases in the past three months are related, but due to faulty record-keeping, it hasn't identified the ingredient causing people to get sick.
"We believe they are related, and are working with the CDC and FDA while they investigate," Chipotle spokesperson Chris Arnold told Bloomberg this week. Food Safety News reports that nearly 500 people have gotten sick from E. coli outbreaks linked to Chipotle restaurants since July, citing the company's own internal documentation. Experts say that the bacteria's DNA in the latest outbreak is different than earlier outbreaks, though both types are highly rare and have been seen only a handful of times by the CDC.
Rare deadly bacteria? Mystery surrounding the ingredients carrying it? Faulty record-keeping practices? This is all sounding very, very scary. Scary enough to spur Chipotle founder and chief executive Steve Ells into issuing a public apology on national TV earlier this month.
"I'm sorry for the people who got sick," Ells said on the Today Show. "They're having a tough time and I feel terrible about that." Then he made a promise: "The procedures we're putting in place to eat are so above industry norms that we are going to be the safest place to eat."
Well, that's great, Steve. The reality is, Chipotle's local and organic sourcing practices are problematic. The level of quality control varies on smaller farms, and Chipotle even admitted that its unique system made the restaurants more prone outbreaks in a regulatory filing from February:
These produce initiatives may make it more difficult to keep quality consistent, and present additional risk of food-borne illnesses given the greater number of suppliers involved in such a system and the difficulty of imposing our quality assurance programs on all such suppliers.
That's unsettling. Chipotle is changing its system, however, and will start sending all of its produce through a central processing facility so that it can enforce better safety standards. This is comforting, but useless to the hundreds of people who've gotten sick in the past few months. It's also not done much to pull Chipotle's stock up, after it tumbled 30-percent in the wake of outbreak reports.