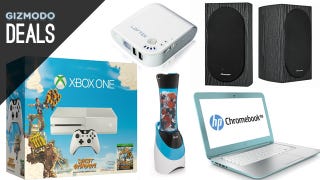 We love travel routers, wireless storage, and external chargers; now you can get all three in one convenient package for just $30. [LOFTEK Wireless Travel Router with Wireless Storage and 5200mAh External USB Charger, $30 with code QZTNT4IX]
---
USB 3.0 hubs for under $10 are always notable. You can get this one for $9 today, but the discount will only show up at your final checkout screen. [HooToo® USB 3.0 4-Port HUB (Bus-Powered, Built-in 1ft USB 3.0 Cable), $9 after $5 discount at checkout]
---
$200 for a Chromebook is a good price. $200 for a Chromebook with a 14" screen is a great price. $200 for a Chromebook with a 14" screen and free T-Mobile 4G data for life...well, you get the idea. [refurb HP Intel-Powered, 4GB, 16GB SSD, Chromebook with 200 MB T-Mobile 4G For Life, $200]
Update: Sold out
---
We've had a nice little run of Dustbuster deals over the past couple of weeks, but here's one for $20 if you still don't have on. [ Black & Decker BDH7200CHV 7.2-Volt Cordless Dustbuster, $20]
---
If you want to upgrade your sound system, the Wirecutter's favorite bookshelf speaker pair is only $60 today. These usually sell for the full $130 MSRP, so you absolutely shouldn't wait to purchase. [Pioneer SP-BS22-LR Andrew Jones Designed Bookshelf Loudspeakers ($60) | Amazon
Need a little more oomph? Pioneer floorstanding and center channel speakers are also nearly half off today.
Pioneer SP-FS52-LR Andrew Jones Designed Floor standing Loudspeaker (each) ($70) | Amazon
Pioneer SP-C22 Andrew Jones Designed Center Channel Speaker ($50) | Amazon
---
Smoothies to go have never been easier. This compact blender and 20 ounce sports bottle combine to create custom drinks no matter where you're going. [Oster My Blend 250-Watt Blender with Travel Sport Bottle, $19]
---
These remote-controlled programmable outlets aren't as smart as WeMo switches, but at less than $4.50 each, it's tough to complain. [ Etekcity 5-Pack Auto-programmable Function Wireless Remote Control Outlet with 2 Remotes, $22 with code OFF9938U]
---
No matter how long you've been driving, it's never too late to learn better habits. Automatic is a little Bluetooth dongle that plugs into your car's OBD-II port (found on almost any car made since 1996) and communicates with your phone to track driving habits, mileage, and engine problems. Best of all, if you're in an accident, Automatic will automatically alert the authorities and call your family, no subscription required.