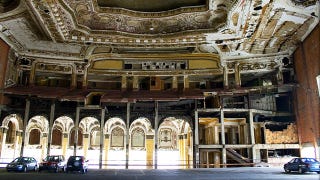 It's almost too perfect a picture of urban decay: an opulent movie palace turned hollow and empty into a parking lot. In recent decades, Detroit's Michigan Theater has become iconic for all the wrong reasons, but it's just been bought by a developer with plans to revitalize the building and, with it, a small chunk of Detroit.
The 4,000-seat Michigan Theater opened in 1926, when automobile money was pouring into Detroit and Hollywood had just entered its Golden Age. The four-story lobby was appropriately lavish, with marble columns and red velvet and crystal chandeliers. Decades passed. While the car industry in Detroit stopped growing, car culture did not. Lack of parking doomed the business at the massive theater. For a while, it was a nightclub, the city's largest in fact. But in 1977, the building's owners had gutted the building and turned it into a parking lot.
Image credit: Ronnie Yip /Flickr
Image credit: Bill Pugliano / Getty Images
Our friends at Jalopnik have written a detailed history of the Michigan Theater, the most ironic detail of which is that the theater was built on top of Henry Ford's first workshop. You should read all about it over at Jalopnik.