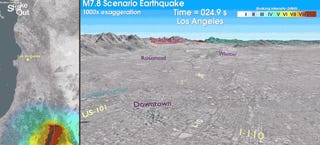 Here's something you might not know about the 6.4 earthquake epicentered near the Pacific Coast of Mexico on May 8: By the time it hit Mexico City, 170 miles away, people there already knew it was coming. Even before the shaking started, they had time to move to safety. They were ready—thanks to their advanced warning system.
After a devastating 8.1 earthquake in 1985 which may have killed upwards of 10,000 people, Mexico's government was determined to find a way to prevent this kind of loss of life again. Mexico City residents knew that this 6.4 earthquake was rippling towards their homes because, in 1992, they launched an effective system that's able to tell millions of people that an earthquake is on the way. It's simple, it's relatively affordable to implement, and it works.
In fact, Mexico is one a handful of seismically active countries that have a early warning systems. Taiwan, Turkey, and Romania each have one, too. After the 1995 Kobe quake killed 6,500 people, Japan employed its own early warning system, eventually becoming the first to take advantage of nascent cellphone technology. Following the Tohoku earthquake in 2011, over one million people downloaded a new app which helped prepare them—both physically and mentally—for the dozens of aftershocks that rocked the country.
A similar system, properly implemented, could give cities the time to stop trains and freeze elevators. It would give doctors time to halt surgical procedures in hospitals. It would allow police and firefighters to strategize in the case of a power or communications failure. Just a few seconds of warning could prevent millions in financial losses or even an environmental disaster like Fukushima—and it could potentially save thousands of lives.
So why doesn't the U.S., which bears a large amount of the global earthquake risk, have any kind of system in place?
Unbelievably, a prototype has already been built in California. The latest version is currently being tested by the United States Geological Survey (USGS) and several other partners. In fact, it's almost finished. The science and technology is sound. We know it can save money and lives. Perplexingly, there's just no plan in place to roll it out yet.
We can't—and shouldn't—afford to wait. "Most of the systems you find today are the result of some big killer earthquake," says Douglas Given, the Earthquake Early Warning Coordinator for the USGS. "So one of our goals is to build our system before the killer earthquake—rather than after."