Totally worth it, I want to do this.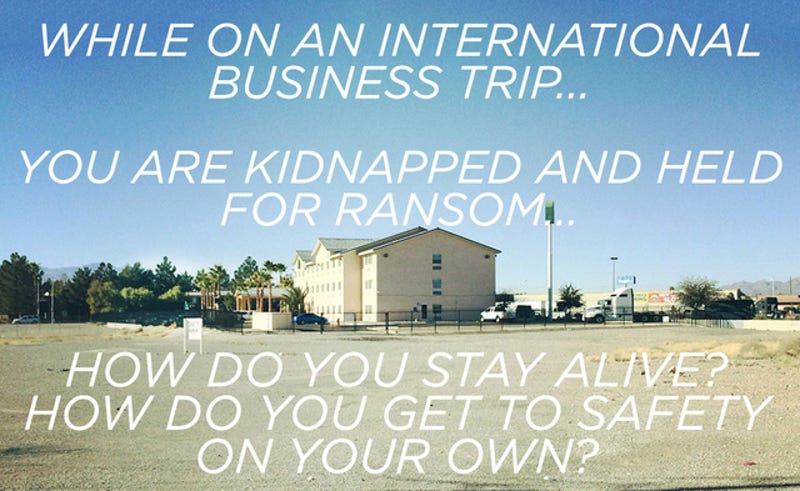 In the meeting room of a La Quinta hotel on the northernmost outskirts of Las Vegas, near the entrance to Nellis Air Force Base, the company OnPoint Tactical hosted the most recent iteration of their "Urban Escape & Evasion" course.
"Urban Escape & Evasion" is a three-day workshop dedicated to training the general public—with an emphasis on international business travelers—how to avoid being kidnapped, how to escape from captivity if you are unfortunately nabbed, and how to navigate your way back to safety through unfamiliar urban terrain.
It is urban survivalism, complete with a hands-on introduction to improvised weaponry, lock-picking exercises, and a surreal final day spent putting those new skills to work, being hooded, interrogated, and—assuming you are able to escape your handcuffs in the dark—spending a day being tracked through the city by volunteer bounty hunters intent on showing how difficult it can be to find safety.
To date, the workshop has been held in such U.S. cities as Los Angeles, Philadelphia, Atlanta, Chicago, Salt Lake City, and many more; somewhat surprisingly, they have yet to run the workshop in New York City, as OnPoint Tactical founder Kevin Reeve thinks the reactions of local law enforcement officers would simply be too difficult to manage on the day of the final exercise.
I signed up for the course in Las Vegas—it was actually a combination birthday/Christmas gift from my wife—and I had originally done so as part of the research I was doing for a book I'm writing about burglary, crime, and the built environment. I wanted to learn not only how to escape handcuffs, zip ties, and paracord—simply for the fun of it—but to hear how the urban environment itself might present spatial opportunities for everything from committing crimes to evading gangs and kidnappers.
The workshop's focus on improvisational tools, DIY gear hacks, and the virtuoso navigation of urban space also made it a perfect fit for Gizmodo. While I can't reveal all the specifics—for that, you'll to sign up for one of the courses on the company's website—read on for stories of a surreal weekend spent escaping from captivity, picking locks, and watching amateur kidnap films in the dust-covered, far-northern outskirts of Las Vegas.
"While on an international business trip..."
The overall premise of the workshop is that you find yourself in an unfamiliar environment, somewhere you can't navigate on your own and where you don't know the local customs. This could be Iraq or it could be Colombia—or it could be much closer to home, such as Detroit, a city that came up repeatedly in the anti-urban sentiments that underlaid most of the course. We were told repeatedly that this could happen in any city—you could be kidnapped anywhere or experience outright urban collapse, whether from a prolonged blackout or a natural disaster, in Phoenix as much as in Mexico City. If the future of violence is urban, then literally any conurbation is a risk.
---