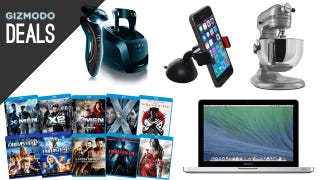 Since Amazon Coins are so in vogue right now, here's another way to score some freebies. Amazon is giving away $10 in Appstore credit with the purchase of select gift cards. Options include Subway, Starbucks, cinema chains, Whole Foods, and a ton more, so chances are you'll find one that you'll use anyway. [$10 Amazon Appstore Credit With Gift Card Purchase]
---
In case you missed it yesterday, Amazon is continuing its assault on your Android device with $10 in free Coins for downloading five free apps. Whether you keep the apps or not is irrelevant; the $10 is yours to use as you see fit on the Amazon App Store.
If you haven't yet downloaded GTA: San Andreas from Amazon, they're still giving away $20 in coins with your purchase, so you could use your $10 credit to buy the game, and end up with $23 and six new apps in your pocket without spending a penny. [$10 in Free Amazon Coins]
Once you have your coins, may I be so bold as to recommend Out There, Threes, and Monument Valley? The ever-useful Plex is also on sale for just 99 coins right now as well.
---
If you've had your eye on a new Mac or iPad, Best Buy has some great deals for Memorial Day weekend. If you have access to a .edu email address, the savings can be even bigger.
---
Microsoft seems to have found its mojo with the new Surface Pro, and if you're planning on picking one up, you can save 5% on your preorder by texting MSHS to 29502 to obtain a special promo code. [preorder Microsoft Surface Pro 3, 5% off]