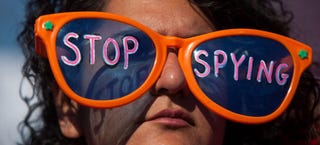 Ever since the Snowden revelations, honest (and some dishonest) efforts have been made in Congress to try to scale back at least some of the NSA's spying. It's a complex problem, since the NSA has overstepped reasonable bounds in so many different directions and there is intense secrecy surrounding the NSA's activities and legal analysis.
The bill with the best chance to make some positive change currently is the Senate version of USA FREEDOM Act, a new piece of legislation with an older name.
Senator Leahy introduced S. 2685, the USA FREEDOM Act of 2014, last week. It's clearly a vast improvement over the version of the bill that passed out of the House.1 It would also be an improvement over current law.
But it still has problems, some of which are inherent in any attempt to legislate in the shadow of national security. Specifically, we've seen the NSA and the intelligence community twist common words into tortured and unlikely interpretations to try to excuse their surveillance practices. We're worried that, for all its good intentions, the bill may leave room for the intelligence community to continue to do so. Due to the secretive nature of surveillance, it will be difficult to ensure the intelligence community is not abusing its powers. And finally, this bill is a compromise between those who seek to reform the NSA and those who want to defend the status quo. Those compromises often fell short of what we'd hope for in comprehensive NSA reform.
Bad Faith Interpretations of the Bill's Language
We now know that the NSA plays word games when it comes to interpreting the Foreign Intelligence Surveillance Act (FISA) and the Constitution. Words like "collect" and "target" have meanings for the NSA that no ordinary person would use. Words like "relevant" have been stretched far beyond any reasonable interpretation.
The new USA FREEDOM Act is also vulnerable to this kind of misuse. The language has wiggle room and ambiguity in places that we tried to get rid of, and failed. It also likely has language that can be misused that we haven't yet recognized. While the clear intent of the bill is to end bulk collection of call detail records and bring more transparency to the NSA, the government could attempt to argue in bad faith that the bill does not require either.
Folks have begun pointing out where this is possible and we think this effort should continue. Specifically, some have emphasized that the bill only has extra restrictions for "daily" call record collection, like the collection the government currently does. They've argued that this means that the government can continue bulk collection if it simply crafts its request for call detail records, say, on a weekly or yearly basis. This interpretation of the legislation doesn't take into account the additional restrictions imposed on any requests not made under the new language, but it's still concerning.
Others have pointed out that the government can still get a second set of call detail records (a second "hop") if there's a "direct connection" to the first specific selection term. But the term "direct connection" is undefined. Some have noted that the government could interpret "direct connection" to include the physical proximity of two mobile devices, or being in someone's address book, since both might be called "direct"—yet the bill is trying to stop that sort of surveillance by association.
While we do believe that the intent of the bill is to disallow either of these scenarios, some additional clarity in the language would really help here, especially given the secrecy discussed below.
We hope the entire community of people concerned about mass surveillance will join us in poring over this bill and helping to identify other areas where additional clarity is needed.
Secrecy May Still Undermine Accountability
We've only gotten this far in ensuring that ordinary people know how pervasive surveillance really is due to whistleblowers like Mark Klein, William Binney, Thomas Drake, J. Kirk Wiebe, Edward Snowden and countless anonymous whistleblowers, as well as the tenacious efforts of litigators under the Freedom of Information Act. Intelligence agencies like the NSA and FBI have fought hard to maintain as much secrecy as possible, only opening up when cornered.