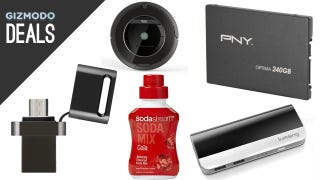 If you've ever wanted an easier way to move data on and off your Android phone, this 16GB flash drive includes a Micro USB plug and free file management software. If you're going on vacation and plan to take a lot of photos with your phone, this would be a great option for backing them up. [Sony 16GB MicroVault USB Flash Drive for Smartphones, $11]
---
Get these deals and more, and earlier on Deals.Kinja. Connect with us on Twitter and Facebook to never miss a deal, check out our Gaming and Movie/TV release calendars to plan your upcoming free time, and join us for Kinja Co-Op to vote on the best products. Got a deal we missed? Post it in the comments with a link and we'll share right to our Deals homepage.
---
This external charger has two ports, a neat design, and is only $20 today for over 10,000mAh. [ Lumsing 10400mAh Harmonica Style Portable Power Bank, $20 with code ILUMSING
---
New iPads are on the horizon, which means the current models are starting to see some really great discounts.
---
Whether you want to clean your floors, or do things like this, Roombas are awesome. Amazon has several models on sale today, and you can also get a free replenishment kit with select purchases.